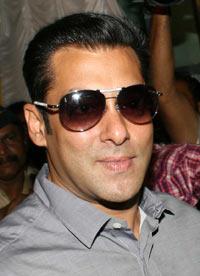 The Bandra metropolitan magistrate granted exemption to the 47-year-old actor, celebrating his
birthday
today, on an application made by his lawyer Dipesh Mehta on the ground that the Bombay High Court had already granted him permanent exemption.
The court was hearing a complaint against the actor and the police alleging that the trial was being delayed deliberately. The court had asked Salman to appear personally to answer the charges.
Khan today pleaded that he was not responsible for delaying the trial in hit-and-run case and sought dismissal of the complaint. His lawyer argued that as the High Court had granted permanent exemption to the actor in the case the actor did not appear for trial and sought exemption.
However, the actor was ready to appear whenever the court would direct him to do so, Mehta told the court. He also argued that the complaint filed against Salman was not maintainable under CrPC and the complainant had no locus standi in the matter.
Mehta said Salman was granted exemption from appearance in the case by the Bombay High Court on June 10, 2005,
on merits considering facts and circumstances placed before it.
The Bollywood actor today pleaded that the complainant had falsely alleged that the trial was delayed because he had sought exemption from appearance.
The complainant, Santosh Daundkar, had alleged that the trial in the 2002 case, in which one person was killed and four others were injured when Khan's car rammed into a bakery at suburban Bandra, was delayed by four years because of actor's busy film schedule. He also alleged that the actor had connived with police to delay the trial as wrong set of witnesses were produced.
The actor denied that between 2008 and 2010 no witnesses were examined, saying the prosecution had already examined more than 15 witnesses so far. He maintained if at all there was a delay in the trial it was not because of him. The court has asked the police to file a reply and the matter has been adjourned till January 30
Advocate Abha Singh, appearing for the complainant argued that police had favoured Salman by not examining witnesses in the case in the last five years. She also argued that Salman must appear in the case regularly.