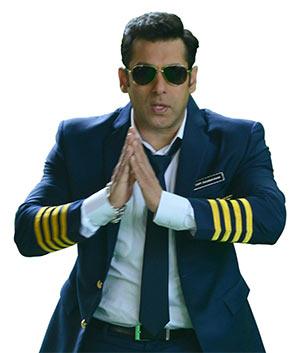 'I thought I won't come back to Bigg Boss. There are certain things I didn't like, but they are sorted now.'
Salman Khan gets ready for Bigg Boss 8.
Salman Khan returns as the host for the eighth edition of the television reality show Bigg Boss. He had earlier stated that he did not want to host the current season of the show. So, what made him change his mind?
"One reason is that I have no work right now. And two, when you refuse a show, you get to renegotiate your remuneration. Haan bolne ke paise nahin lagte, naa bolne ke lagte hain (It pays to say 'no', not 'yes')," he jokes.
"I thought I won't come back. There are certain things I didn't like, but they are sorted now," he adds.
There are allegations that Salman has been biased in favour of certain contestants year after year.
"Those kinds of equations just happen with certain people. I don't do it deliberately," he defends himself. "From Monday to Friday, the show is in a regular format. Then, on Saturday and Sunday, we need a connect and that is the reason one feels that I am favouring some of them."
He adds, "The format of the show is such that there are controversies. If something does not happen, then people, including my own family and friends, say, 'The episode was thanda'. And if something happens, then they say it was too much. So at the end, you don't know what to do."
"If you notice, I speak from for both sides (people who are wrong and right). As a host, it is important to take a stand for the contestants. Sometimes it looks like you are taking a stand for yourself but it is for them because you know how they are being projected outside," he says.
He says the show takes a lot out of him. "Even after the season is over, I am left sorting out people's sh* t because I know most of them on a personal or a professional level."
Salman claims that he didn't appreciate it when Kushal Tandon, who had walked out of Bigg Boss midway in the previous season, was allowed to enter again.
"I have no personal problems with either Gauahar Khan and Kushal. The creative team didn't do it right when it decided to bring them back on the show once they were out. I couldn't do much about that because it was the creative team's decision. I feel once you are out of the show, nothing should bring you back."
He says he was shocked when he saw some of the contestants, who had fought on the show, partying hard after it got over.
"Some of them even went to Goa and were drinking together at my farmhouse! So anything can happen," he added.
Image: Salman Khan performing at the Bigg Boss 8 announcement event
Who would he like to see in the Bigg Boss house this year?
"Sanjay Dutt! Unko wahaan se nikaal ke yahan dalo (remove him from jail, and bring him here). But I guarantee he will say, 'Mujhe wapas wahaan bhej do' (Please get me out of Bigg Boss)! Bigg Boss is a very difficult place to be in," Salman says.
Salman had promoted his good friend Aamir Khan's Dhoom 3 last season by wearing a hat in the episodes leading up to the film's release.
Will he promote Aamir's PK too this season?
"Main PK bolunga? Aamir is now roaming with an I-Pod; he has sold his transistor," Salman jokes, referring to Aamir's nude poster.