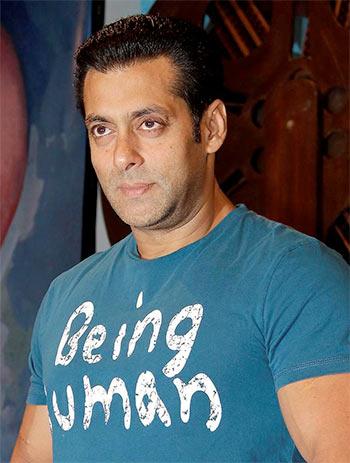 ...Because the students have made our industry worthy, Salman Khan explains.
Salman Khan has joined the league of top Bollywood celebrities in supporting the striking FTII students who are facing rustication for opposing the appointment of television actor Gajendra Chauhan as the chairman of the institute.
Salman said the Mahabharat star should pay heed to the students and resign from the post.
Salman's support came a day after the institute warned the agitating students to end the strike or face "strong administrative action which may include rustication".
"I think that he (Chauhan) should listen to the students... because the students have made our industry, worthy industry...," Salman told reporters.
The students have been agitating for more than a month following the appointment of Chauhan, alleging that he lacks "vision and stature" to head the prestigious FTII.
The issue has snowballed into a big controversy with several actors batting for the students and asking the government to reconsider Chauhan's appointment.
Well-known celebrities like Rishi Kapoor, son Ranbir Kapoor, Nawazuddin Siddiqui, Anupam Kher, filmmakers Kundan Shah, Aziz Mirza, Adoor Gopalakrishnan, Kiran Rao, Rajkummar Rao, Sudhir Mishra, Sayeed Mirza, Resul Pookutty and Piyush Mishra have voiced their reservation.
Cinematographer Santhosh Sivan, actress Pallavi Joshi and National Award-winning filmmaker Jahnu Barua resigned as members of the FTII Society in support of the students.
"All concerned students will themselves be responsible for any administrative action in this regard. You are therefore ordered to terminate the strike with immediate effect and resume academic activities without any further delay, failing which the institution will be free to take strict administrative action," read a notice issued by director D J Narian.