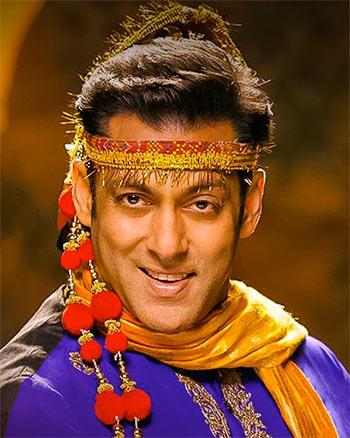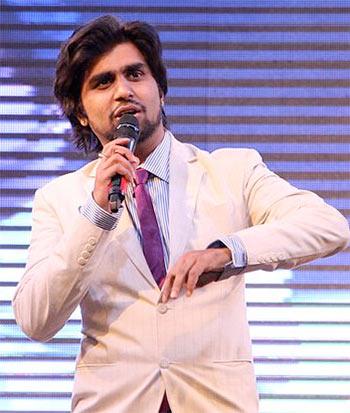 'There is a lot of competition and it's difficult to get good work. Very few succeed and survive in the industry.'
'I visited studios of the biggest names in the industry and was always on look-out for work, but with little success.'
'I have struggled for 10 years before getting a proper break.'
Prem Leela singer Aman Trikha tells Rediff.com contributor Rajul Hegde his journey to success.
Go Go Govinda and Hookah Bar singer Aman Trikha is in a happy space as his latest songs Prem Leela and Halo Re -- in the film Prem Ratan Dhan Payo -- have become quite popular.
Aman discovered that he could sing while studying for an engineering degree, and decided to pursue a career in playback singing. He has sung jingles and also participated in reality shows before he got a break in the music industry.
Aman Trikha sings Prem Leela song from Prem Ratan Dhan Payo. Video: Afsar Dayatar
How did you get to sing for Prem Ratan Dhan Payo?
They were looking for a voice which would draw attention even without the video. The video itself would create an impact obviously because of the Salman factor. They had tried out four-five singers before me but Himesh Reshammiyaji, Sooraj Barjatya and Salman bhai weren't convinced with them.
When I met them, Sooraj sir briefed me saying that I had to sing imagining that I am the character Prem and I did just that.
I was given a simple brief but it was still demanding because Salman Khan and Soorajji were coming back together after a span of 16 years. Soorajji wanted Salman's grand entry in the film to be represented by a voice which could portray the boldness, naughtiness and playfulness of his character Prem in the film. That was quite a task.
Go on…
The lyrics are very folkish, Irshad Kamil has outdone himself. After I recorded the song, Soorajji said I was there in his mind as he had liked my song Go Go Govinda from the film OMG. Later, he said everybody in the team was happy with the way the song had turned out. That's a huge compliment for me.

Halo Re is a very romantic song. In the song, Salman Khan woos Sonam Kapoor. The song is full of love, teasing and nokjhok. It is Soorajji and Salman bhai's favourite song in the movie in terms of musicality and playfulness.
Aman Trikha sings a medley of his songs. Video: Afsar Dayatar
What was Salman's reaction to the songs?
I did not have the privilege to spend much time with Salman. I met him briefly during the trailer launch and the Halo Re recording.
Salman bhai loved the song in my voice and he felt that I had successfully absorbed all his expressions and emotions while singing it. He felt I was the voice of Prem. He was the one who wanted me to sing the other song Halo Re too.
Soorajji has been writing the script since 1993 and being talked about since 2013. I had my fingers crossed when I heard about the film. It's a dream come true opportunity to have sung these two songs for the film.

Are dance numbers your forte?
My track record says that I have sung more dance and peppy numbers. I grab whatever comes my way. I am not choosy about the songs I get especially at this point in my career.
Every composer has some thought behind the script when he composes it. I have been fortunate to get songs like Go Go Govinda, Po Po, and Hooka Bar. Even though all are peppy numbers, they have different moods and variety to it.
What people don't know is that I can sing other genres as well. I proved that by singing the ghazal Hum Tumhe Kaise Bataye (Ekkees Toppon Ki Salaami). It was composed by Ram Sampath.
I have even sung a soulful song in Kaanchi. I will be happy if I get to exhibit my versatility through different kind of songs. I would love to sing romantic ballad and soulful melodies.
Aman Trikha sings Hookah Bar song from Khiladi 786. Video: Afsar Dayatar
Which is your favourite genre?
I am comfortable singing and listening to all genres. However, soulful songs are my favourite.
I like classical songs, which are raga-based.
Also, any song with great poetry interests me.

You have recorded the maximum number of hit songs with Himesh Reshammiya. How has your rapport been with him so far?
Out of 20 songs, I have sung around 11 songs composed by Himesh Reshammiyaji.
While I was struggling, I was known to many composers but Himeshji believed in me when no one was willing to give me work. I am really grateful to him for giving me my big break in the industry.
Aman Trikha sings Haalo re song from Prem Ratan Dhan Payo. Video: Afsar Dayatar
Is it difficult to get work in the industry?
There is a lot of competition and it's difficult to get good work. Very few succeed and survive in the industry.
With talent, you also need to have lot of patience, the drive to meet composers and wait for long hours and stand in the long queues for auditions in reality shows.
I visited studios of the biggest names in the industry and was always on look-out for work, but with little success.
I have struggled for 10 years before getting a proper break because I didn't have a godfather. The road to reach here wasn't smooth. But my journey from being a qualified engineer to a playback singer has been full of highs and lows. All the composers I have worked with have taught me something new and I am grateful to them.