With this, the superstar breaks his Diwali jinx.
Yes, this is his first time in a decade that he has made pots of money during Diwali, as Salman is usually an Eid favourite!
Shah Rukh has had the best luck at the box office during this time (with a string of hits like Happy New Year, Jab Tak Hai Jaan, Ra. One, Om Shanti Om and Don), and Ajay Devgn is a close second with four hits (Son of Sardaar, Golmaal 3, All The Best and Golmaal Returns).
Here's looking at Salman's earlier ill-fated Diwali releases.


2005: Kyon Ki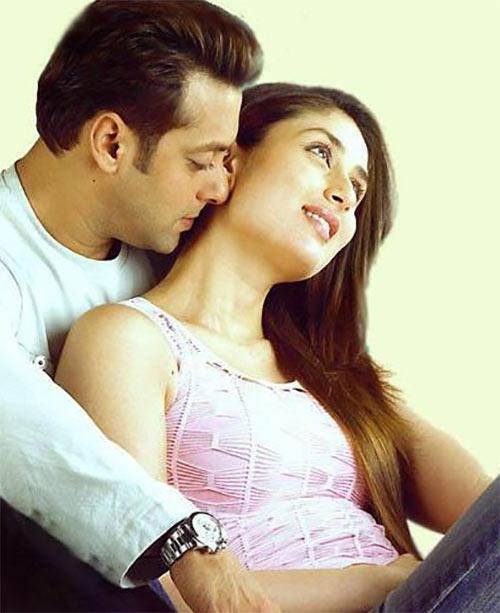 Image: Salman Khan and Kareena Kapoor in Kyon Ki
Priyadarshan worked with Salman for the first time in the tearjerker Kyon Ki.
The film featured Kareena Kapoor as Salman's leading lady.
But audiences preferred Priyadarshan's hilarious film, Garam Masala -- which released on the same day. It starred Akshay Kumar and John Abraham.


2006: Jaan-E-Mann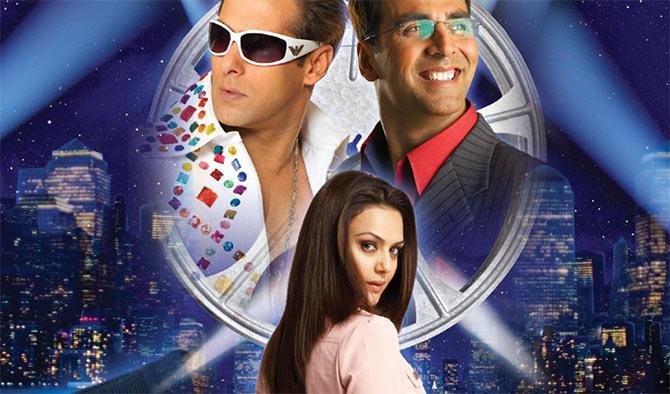 Image: Salman Khan, Akshay Kumar and Preity Zinta in the Jaan-e-Man poster
The next year when the Kyon Ki and Garam Masala stars came together for Jaan-e-Mann, it seemed like a pleasant musical romance by then first-timer Shirish Kunder.
But Shah Rukh Khan changed the rules of the marketing with Don, releasing on the same day. He planned multiple city tours, held paid preview shows across the country, and went all out to promote his film.
Jaan-e-Mann flopped, and hurt everyone associated.


2007: Saawariya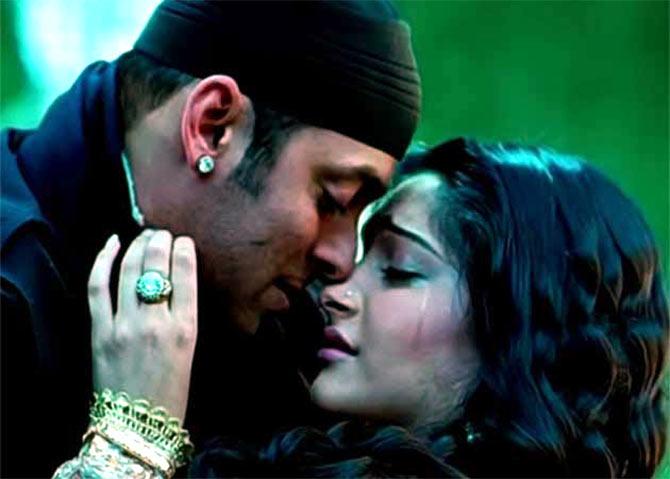 Image: Salman Khan and Sonam Kapoor in Saawariya
When Sanjay Leela Bhansali launched Ranbir Kapoor and Sonam Kapoor with Saawariya, he also roped in Salman for an extended guest appearance.
But it was Shah Rukh's Diwali once again, as he scored a blockbuster with Om Shanti Om,
out on the same day.
2008: Heroes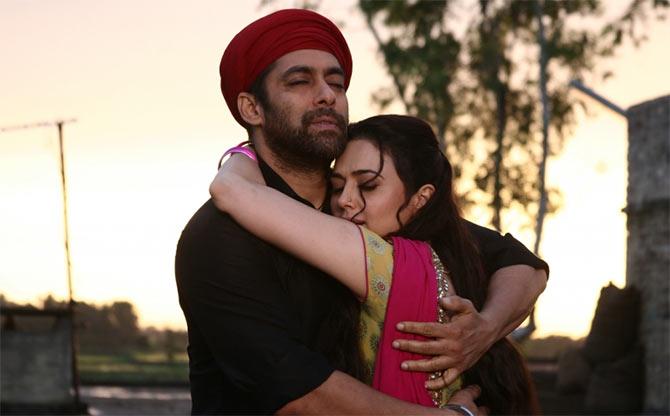 Image: Salman Khan and Preity Zinta in Heroes
A episodic tale that featured a multitude of stars, Heroes featured Sohail Khan in the main lead.
Brother Salman Khan joined in with Preity Zinta and delivered an endearing performance as a soldier.
But the did not cover the distance as the other Diwali releases -- Golmaal Returns and Fashion -- took the lead.


2009: Main Aurr Mrs Khanna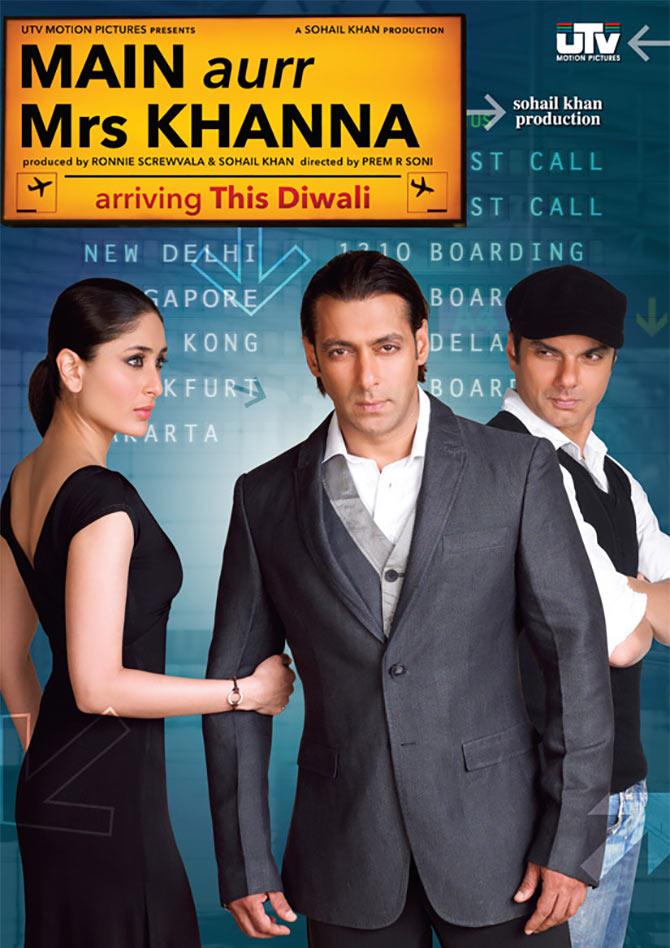 Image: Kareena Kapoor, Sohail Khan and Salman Khan in the Main Aurr Mrs Khanna poster
A love triangle featuring him with Kareena Kapoor and Sohail Khan, Main Aurr Mrs Khanna was in the making for a while.
The film did not carry much buzz on its release and turned out to be a mega disaster.
Meanwhile, All The Best and Blue opened well with the former doing better in the long run.


2011: Tell Me Oh Khuda

Image: Salman Khan and Esha Deol in Tell Me Oh Khudda
When Esha Deol made her comeback with Tell Me Oh Khuda, mother Hema Malini roped in Salman to add star-power.
He pitched in with a cameo in one of his least-remembered songs, Touch My Body. In fact, Esha shared a frame or two with a rapping Salman Khan.
No one was interested, the film was a disaster and Shah Rukh's Ra. One took a record opening.


2012: Son Of Sardaar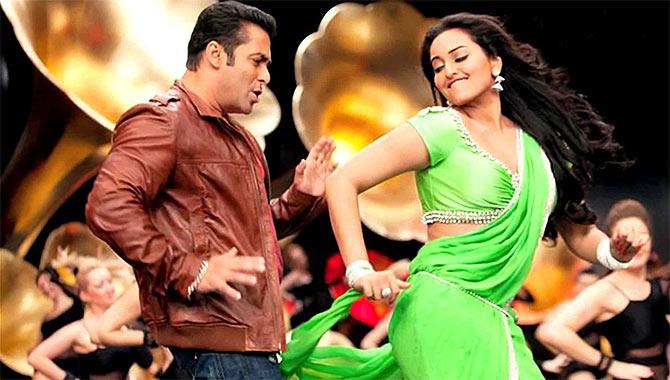 Image: Salman Khan and Sonakshi Sinha in Son Of Sardar
Salman put in another guest appearance for Ajay Devgn's Son of Sardaar. He featured in a couple of scenes as well as the hit song Po Po.
The film was a good success too.
Meanwhile, Shah Rukh continued his Diwali run with the bigger hit Jab Tak Hai Jaan.
Note: Salman did not have a Diwali release in 2010, 2013 and 2014, in lead or cameo roles.