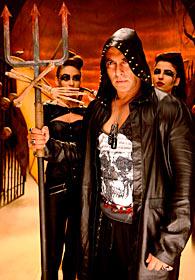 Salman Khan has been charged under IPC section 304 -- culpable homicide not amounting to murder -- by the Sessions Court, in connection with the 2002 hit-and-run case when his Land Cruiser killed one person and injured three others.

While Khan may worry about his fate, industry experts feel the verdict will not affect his career.

The 47-year-old actor has only one film on the floors -- Mental, directed by his brother Sohail Khan. He has also started shooting for the promos of the next season of Bigg Boss.

Industry observer and trade analyst Amod Mehra says it all depends on when the verdict is delivered.

"As of now, the court has only framed the charges. Salman is yet to be proved guilty," he says. "We'll have to wait till the final verdict comes out. As of now, it will not affect anything."

Talking about the other films that have been signed by Khan, Mehra said, "Salman has informally said yes to Aneez Bazmee's No Entry Main Entry and a film under Rajshri's banner. Nothing has been finalised about both the films, so it will be difficult to talk about them now."

Mehra also feels that just like Sanjay Dutt, who sought one month to surrender against the Supreme Court in connection with his five-year jail sentence because of his involvement in the 1993 Mumbai blasts, Salman can ask for time as well.

"Salman can appeal to the court to extend the time for surrender. Over and above that, he can apply to the higher court."
Salman's father Salim Khan agrees. He says, "The matter is sub judice but the verdict will not affect anything."
In the picture: Salman Khan in the Bigg Boss 7 promos.