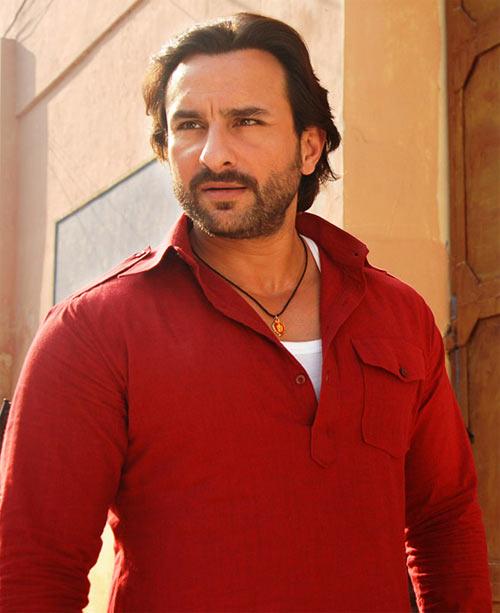 'Sajid Nadiadwala and Kabir Khan were probably the most credible duo to work with and it has paid off'

'I don't think Humshakals was a wrong idea. People may have rejected the movie but they liked the idea'
Saif Ali Khan takes stock of his recent hits and misses with a fresh perspective.

With his latest release picking up in theatres after a slow opening weekend, Saif Ali Khan may finally be getting his box office mojo back.

Released close on the heels of three duds -- Bullett Raja, Humshakals, and Happy Ending -- in a a row, Phantom was indeed a crucial film for Khan.

How does he feel about it? What next?

Rajul Hegde/Rediff.com listens in as the 45-year-old star gives us a lowdown on what Phantom and its success mean for his acting career.

Are you happy with the box office response to Phantom?
I am happy with the response in general.

I feel it was a different time when we started the film.

However, I am happy to end it on this note and move forward.

In many ways we were quite lucky because of all the praise we got since it's a subject that has been discussed a lot.
Commercial success has eluded you for a while. Had you looked at Phantom as the film that could turn things around for you?
I was working simultaneously on four films -- Phantom, Bullet Raja, Humshakals and Happy Ending.

It's not like after Humshakals and Happy Ending, I sat down and thought of redeeming myself by doing Phantom.

Three movies didn't work and thankfully the last one did.
Producer Sajid Nadiadwala and director Kabir Khan were probably the most credible duo to work with and it has paid off.
That said, it looks like redemption because I feel one does make mistakes and take wrong decisions.

I have learnt something from this; we have to move forward sensibly now by choosing the right kind of films and roles.
Can we see you doing more serious and hard-hitting roles since Phantom has worked?
I think the subject needs to be exciting.

It would be nice to be versatile. The idea is not to get typecast in one genre. It is nice to do something more serious too.
How do you feel about pulling off unconventional roles (like in Being Cyrus, Omkara) at times when other actors would've considered it a risk not worth taking?
I agree with that but I didn't realise it with time.

I was just trying to be more versatile. People were saying, 'Look at him, he is only doing Love Aaj Kal and Cocktail,' so I thought I will do a Bullet Raja and also try to do some comedy.

I don't think Humshakals was a wrong idea. People may have rejected the movie but they liked the idea but sometimes things go wrong.

I need to look for something genuinely challenging that pushes the envelope in some way.

You have to have something to sell and can't depend on controversy to make a film interesting. A large section of our audiences are choosy about what they watch because it's expensive. So I would like to be equally choosy in what I present to them from now on.
What was your wife's (Kareena Kapoor) reaction to Phantom? The best compliment you have received for it so far?
Kareena loved the film.

The best compliment I received was when people called it a focussed and effective performance.

Lots of nice things were said. Most people have liked Phantom from what I have understood.

It's difficult for all critics and reviewers to like a film. I don't think we agree on anything in our country too much except Bajrangi Bhaijaan. I think even that got bad reviews from critics.
Any memorable/tough scenes in Phantom?
Underwater is always tough.

The lower you go the more pressure builds up in the air which you can't equalise. Physically, it was the toughest scene. The scene comes towards the end of the film.
You are doing Vishal Bhardwaj's period drama Rangoon, which also stars Kangana Ranaut and Shahid Kapur. What kind of preparation is going into it?
Vishal just wants physical fitness.

He just said work out a lot. We start shooting in November.

I am very impressed with the way Dolly Ahluwalia has designed my costume.

It's a period drama, so the costumes are also very different.

Many Bollywood actors are signing up for non-fiction TV shows. Given a chance, would you like to host or judge a show on television?
I don't know and it all depends on the offer.

I would like to host an interesting game show. So many American stars are acting on television serials.

I wish we could do that but it doesn't seem like there is such a good market or budget. And they work so hard for 16-18 hours, it's unbelievable.

I feel a little scared and sad at the thought of that kind of work.
Shilpa Shetty recently said that you are the most stylish man in Bollywood. Who do you think is the most stylish woman in Bollywood?
(Big smile) I would say Kareena.

I think she understands fashion and style well. She is relaxed in casuals and very elegant, poised in formals; it suits her.
Apart from Kareena, I am sure there must be many because almost everybody is amazingly dressed these days. I would say Shilpa! It's easy, you praise me I praise you (laughs).