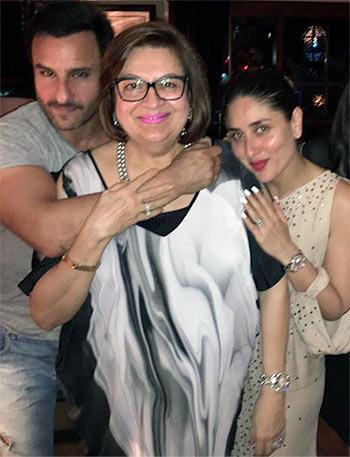 The top posts on social media from your favourite Bollywood celebrities: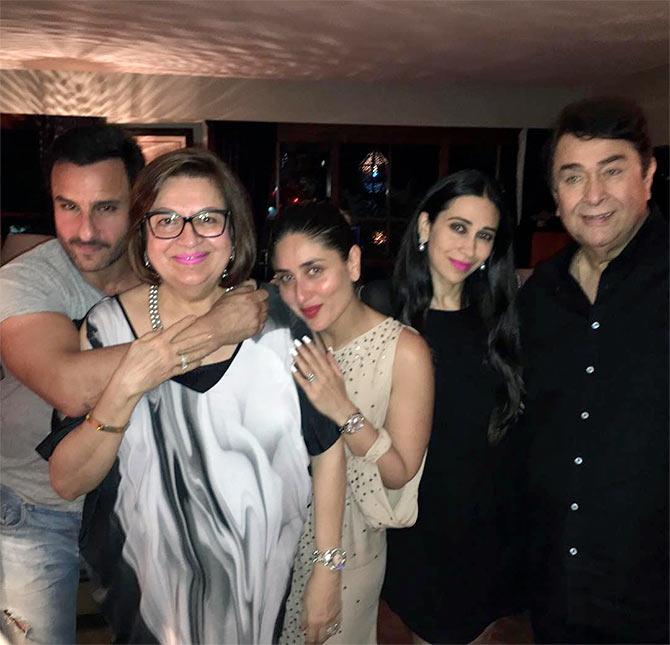 The Kapoor sisters -- Karisma and Kareena -- celebrated their mother Babita's birthday on April 20.
Karisma posted a picture, above, and captioned it: 'Birthday love.'
The ladies were joined by Saif Ali Khan and Randhir Kapoor.
***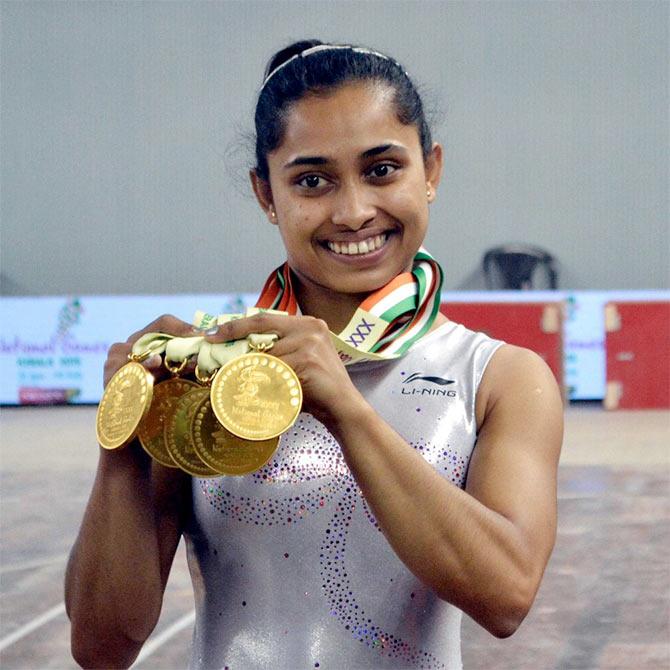 Dipa Karmakar has became India's first woman gymnast to qualify for the Olympics and several celebrities turned to Twitter to congratulate her:
Shah Rukh Khan shared her picture, above, and tweeted,"Finally our own Nadia Comaneci. Dipa Karmakar u r the pride of our Nation.Ur achievements inspire us. Thanks lil one.
Javed Akhtar: Feeling very very proud of Deepa Karmakar . With her Indian sports have taken a big leap and cleared one more hurdle . Best wishes to her .
Hema Malini: Dipa Karmakar has made our country proud with her wonderful achievement of qualifying for the Olympics. Way to go Dipa! We are all with u!
Lara Dutta: Congratulations #Dipakarmakar ! Super proud!!!
***
Happy anniversary Aiswarya, Abhishek!
Aishwarya and Abhishek Bachchan celebrate their ninth wedding anniversary today and their friends took to Twitter to wish them:
Bipasha Basu: 'Happy happy anniversary to the gorgeous couple @juniorbachchan and Ash. Together forever. Love and hugs.'
Shekhar Ravjiani: 'Happy anniversary to two of my most favourite people ever. @juniorbachchan and #Ash Lots of love and a big hug.'
Sikandar Kher: 'Happy Anniversary @juniorbachchan ! Still wish we were married ;) .. Love to the Mrs ;))'
***
Lata Mangeshkar remembers Lalita Pawar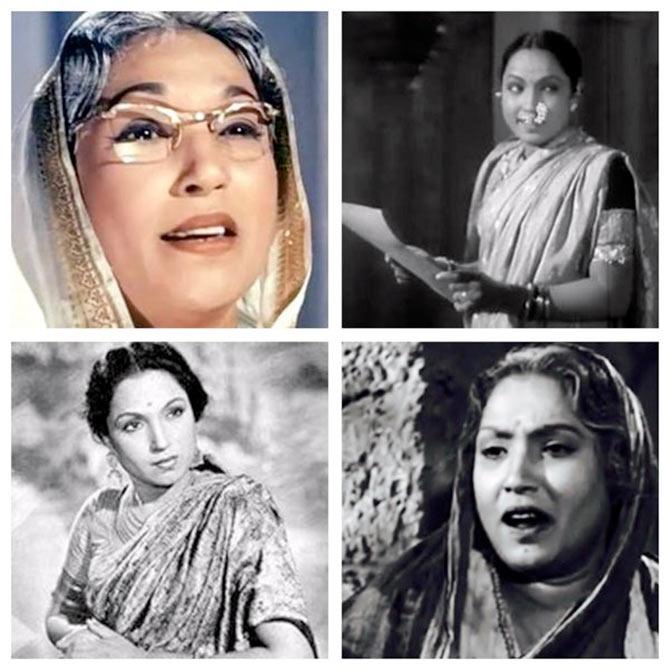 Lata Mangeshkar turned to Twitter to pay tribute to late actor Lalita Pawar on her 100th birthday anniversary.
She posted a collage of pictures, above, and wrote: 'Namaskar. Lalita Pawar ji,jinhone silent filmo'n se lekar 700 se bhi jyada Hindi,Marathi,Gujrathi filmo'n mein apne abhinay ki dhaak jamaayi thi,unki 18 April ko 100vi jayanti thi. Main is mahan abhinetri ko salam karti hun.'
***
Ali Abbas Zafar shoots Sultan at Jama Masjid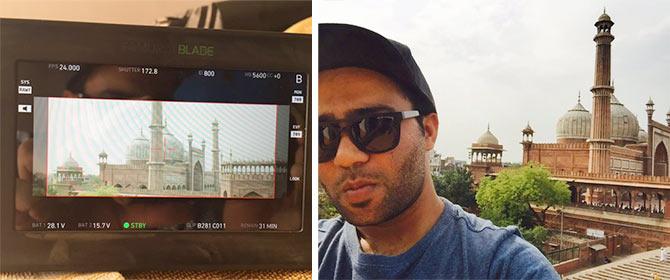 Director Ali Abbas Zafar has started shooting for the last leg of his film Sultan in Delhi.
He posted some pictures, above, and tweeted: 'Shooting in 40 degrees @SultanTheMovie at beautiful #jamamasjid, last 3 weeks :)'
Starring Salman Khan, Anushka Sharma, Randeep Hooda and Amit Sadh, the film will release on July 6.
***
Rahman: Virtual Reality is poised to be the next big thing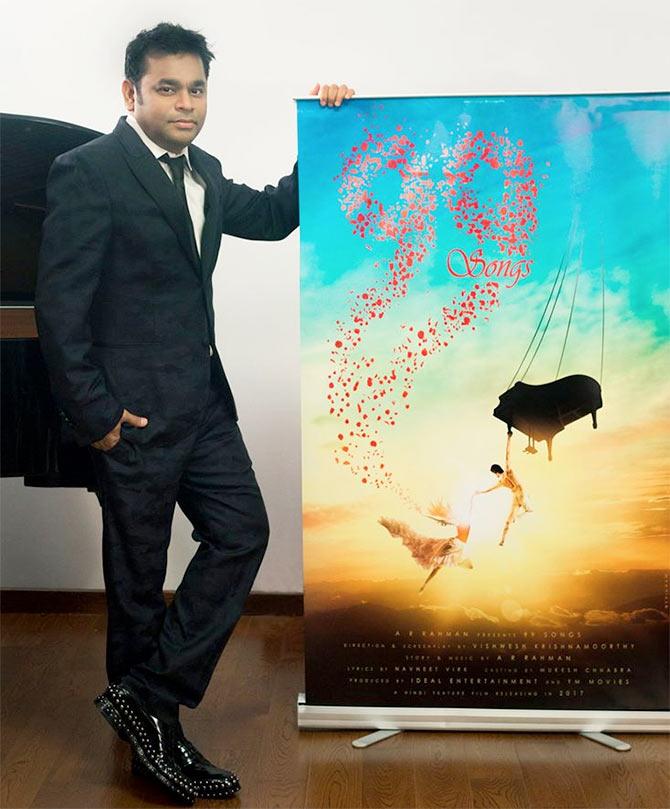 Music composer AR Rahman, who is making his debut as producer and scriptwriter with 99 Songs, says that the film is going to be a virtual reality experience.
He posted a picture on Facebook, above, and wrote: 'Dear friends, cinema and music has enriched our lives hugely over the years and this can never be denied. However, cinema as a medium is also evolving constantly, and we need to adapt with the times for a more immersive experience.'
'Virtual Reality is poised to be the next 'big thing' that might change how we experience and enjoy cinema and that's why we're experimenting with a virtual trip to the world of 99 Songs. Stay tuned.... Till next month.'
Directed by Vishwesh Krishnamoorthy, the film is a story about art and self-discovery of a struggler, who wants to be a successful music composer.
***
RGV confirms Sarkar 3
Ram Gopal Varma, who recently released the trailer of his film Veerappan, took to Twitter to announce the third installment to his hit franchise Sarkar.
'I'm as excited as a teenager on his 1st date with a girl about #Sarkar3,' he tweeted. 'Abhishek is not there in Sarkar 3 because his character died in the 2nd part,' he added.
The film will feature Amitabh Bachchan.
***
Mallika Sherawat: Mahesh Bhatt changed my life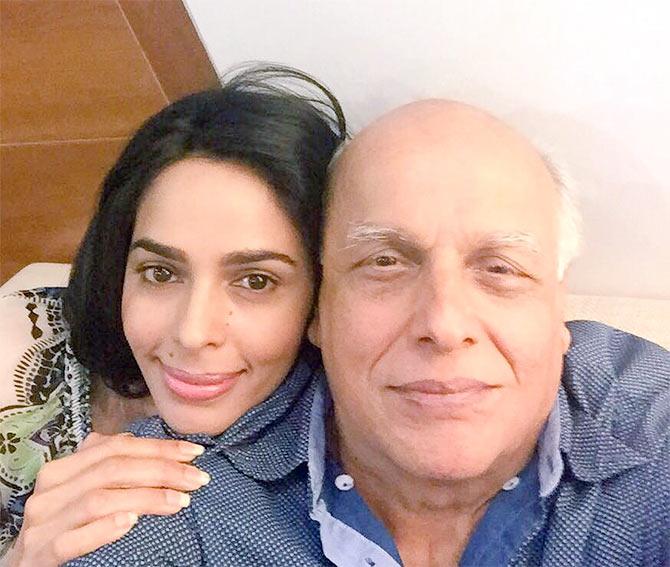 Mallika Sherawat, who to shot to fame with Mahesh Bhatt's Murder, recently caught up with him in Mumbai.
She posted a picture of them together, above, and tweeted: 'With my mentor @MaheshNBhatt , he changed my life :)'
Mahesh Bhatt replied back saying, 'She says she gifted the Dvd of Murder with its 'cheesy' cover to Obama. The bottom was too crowded for Mallika.'