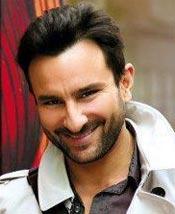 Bend It Like Beckham director Gurinder Chadha is currently in New Delhi on a clandestine trip to research on her next project, which will be based on the months before the Partition of India in 1947.

While the cast and other details are yet to be finalised, we learn that Saif Ali Khan is the most likely contender for the role of Jawaharlal Nehru. However, the film's central character is Lord Mountbatten, and his final months in India.

Last week, Gurinder became the first filmmaker to get a bird's eye view of the entire Rashtrapati Bhavan. Apparently, Prime Minister Manmohan Singh and his wife invited Gurinder, who hails from Punjab, into their home so that she could portray her Partition film truthfully.

"Gurinder's film needs to recreate the Rashtrapati Bhavan, since a lot of it is shot within its premise. Obviously, she can't shoot inside the real Rashtrapati Bhavan but she got a special invitation from the Prime Minister and his wife to visit it," says a source.

Apparently, the director has been a friend of the Prime Minister's wife Gursharan Kaur for some time now.
"Gurinder met the Prime Minister through Mrs Manmohan Singh," says a source. "They hit it off as they hail from the same part of Punjab. Gurinder is currently on a trip to rediscover her roots. She wants her two kids, twins Ronak and Komiko, to learn Punjabi. In fact, Gurinder's new film will have a lot of Punjabi dialogues and songs. She also met Punjabi singer Rabbi Gill in Delhi this week."