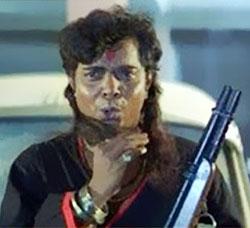 He contributed to my blockbuster Sadak in a very big way'
'Saddened to know about the demise of a fine human being and a wonderful actor'

Bollywood takes to Twitter to pay tribute and offers condolences.

Veteran actor Sadashiv Amrapurkar, who passed away at the age of 64 earlier this morning, was an acting stalwart in his own right.

Following the news of his sudden demise, several Bollywood stars took to Twitter to pay tributes and extend condolences to the grieving family.
Prime Minister Narendra Modi paid his condolences to the late actor, 'We will remember Sadashiv Amrapurkar as a versatile actor, popular across generations. RIP. My deepest condolences to his family.'

Mahesh Bhatt, who gave the late actor one of the finest roles of his career in Sadak, said, "I had heard that he was keeping well from quite a sometime. But his was a sudden end. I remember him very fondly. He contributed to my blockbuster Sadak in a very big way... He was a solid rooted person and had a clean political ideology."

(TOP: Sadashiv Amrapurkar in Sadak)

Director Kunal Kohli remembers the actor for portrayal of a ruthless eunuch in Sadak.
Actor-turned-filmmaker Pooja Bhatt said he was one of the most 'relevant' villains after Amjad Khan's powerful portrayal of Gabbar Singh (in Sholay).

"Sadashiv Amrapurkar, the most relevant villain after Gabbar Singh is gone... Reminds me yet again that life is too short. Love hard. Love more," she said.
Amitabh Bachchan, who is currently shooting his upcoming film Piku in Kolkata, said the actor was close to his heart.

"Waking up in Kolkata to the sad news of the passing away of Sadasiv Amrapurkar.. A colleague and a gifted talent.. Prayers! When a colleague suddenly passes away there is a sudden vacuum, of times spent together, of acknowledgement of their work..," Bachchan posted on Twitter.
Ajay Devgn tweeted, 'RIP Sadashiv. Got fond memories of working together.. great actor and a wonderful human being.'
Riteish Deshmukh said, 'Rip Sadashiv Amrapurkarji- a great actor & a super human being. I was looking fwd to working with him in @Bankchor. Miss you sir.'
Filmmaker Sudhir Mishra who worked with the late actor wrote, 'Spent a long time with Sadashiv in Kashmir shooting for Vinod Chopras Kamiah. Great actor, specially for those who saw him on Stage. RIP.'
Filmmaker Madhur Bhandarkar recalled his experience with Amrapurkar in his debut film Trishakti in 1999.

"Saddened to hear about the demise of #SadashivAmrapurkar. An effortless actor, Sadashivji had his own style and always brought something unique to the table. We have lost a genuine human being. RIP," Bhandarkar tweeted.
Manoj Bajpayee also paid tribute to the late actor, 'Always felt very proud of sadashiv ji .He was a great actor and had very strong opinion on socio political issues.learned so much fr him.RIP.'
Anupam Kher, who shared screen space with the late actor in 1993 film Meherbaan, said, "I am so saddened to know about the demise of a fine human being and a wonderful actor Sadashiv Amrapurkar. He was a kind and a learned man. RIP."
Esha Gupta who was last seen in Humshakals wrote, 'RIP sir Sadashiv Amrapurkar,you've been a legend. Remember watching Sadak and only seeing you. Sure you in a better place now.'

"#SadashivAmrapurkar's portrayal of #Maharani in #Sadak rates as one of the best by a villain ever in Hindi cinema RIP." Bhopal: A Prayer For Rain actor Raajpal Yadav said, "The end of rustic cinematic era as we mourn the death of multifaceted actor and a compassionate #human being Mr #SadashivAmrapurkar."
(With inputs from PTI)