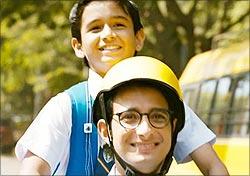 Though his name is mentioned in the film, all talk of ace cricketer Sachin Tendulkar making a cameo in Rajesh Mapuskar's Ferrari Ki Sawari -- starring Sharman Joshi -- has come to zero.

Reportedly, Sachin has decided to not make an appearance in the film.

In fact, a source tells us, it was decided long before the film's completion that Tendulkar would remain an invisible presence in the film.

"However, the brains behind the film decided to keep the intrigue and suspense alive until the film's release by letting people play a guessing game about Sachin's presence in the film," says the source. "The truth is, Sachin graciously agreed to let his name be used in the film. That's it. Beyond that, there was never any question of his making an appearance in the film."
This is not the first time that a star sportsperson's image has been used to generate interest in a film. Mahesh Bhupati played a game of tightlipped mysteriousness when it was presumed that he would make an appearance in his wife Lara Dutta's production Challo Dilli.