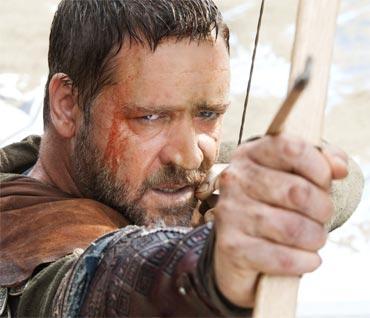 When Aussie actor and Hollywood heart throb Russell Crowe calls for his 'fair maiden Marian' in 2010 summer release Robin Hood, he'll do so with an authentic East Midlands accent.
Crowe, star of A Beautiful Mind and Gladiator, has trained with two voice coaches; and in hopes of authentically recreating the 12th century outlaw of Sherwood Forest, he's been taught to pronounce Nottingham as 'Noddinham' and cup as 'corp'.
According to a report in UK daily The Times, the film's director, Ridley Scott, has hired top Hollywood voice coach Judy Dickerson and English voice coach Andrew Jack to work with Crowe. Jack will also work with the rest of the cast, including Cate Blanchett, who plays Maid Marian.
Jack told The Times that the East Midlands accent is characterised by some interesting colloquial terms, such as "Ay up, me duck" for greeting. It's more difficult to place and less recognisable than other English dialects, like cockney or Geordie, he added.
While an impressive number of films have been inspired by the original tale of Robin Hood and his band of his merry men, in England it's long been lamented how routinely Robin's accent gets butchered, most notably in Kevin Costner's bizarrely American interpretation in Robin Hood: Prince of Thieves.
The Times report adds that, if the film were to be completely faithful to period it hopes to capture, its characters would speak in Old English or Norman French, a language then used by the noble class.
While the movie strives for authenticity in the accent department, it's had to make sacrifices elsewhere. The movie was shot in Ken, Hertfordshire and west Wales, at least in part because the famed Sherwood Forest nowadays doesn't have enough trees for a proper set in the woods!