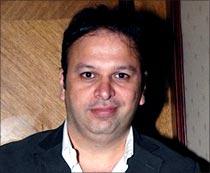 After coursing a career in media -- whether it was theatre, television or radio -- and incepting a profitable event management firm, Roshan Abbas has ultimately found his calling in film-making.
In his directorial debut film Always, Kabhie... Kabhie, he claims he has tried something 'slightly different', and not anything 'uniquely different'.
The film is financed by Red Chillies and has reached its final leg of post-production. Amid all the chaotic madness that transpires at this crucial stage, Abbas finds time to breathe and converses with Ankur Pathak on the thrill, the privilege and the accountability of charting out a film that has the stamp of Shah Rukh Khan as producer.
Your title Always, Kabhie... Kabhie sounds like the Holllywood film Definitely, Maybe. What is your story about?
No, my film has nothing to do with the film you are talking about.
In AKK, I've tried telling a very interesting story which has its crust of Bollywood song-dance, and the basic sensibilities but at the same time, it points at a certain problem. I don't like offering solutions, that'd be too preachy but the problem is definitely highlighted.
Somewhere I feel that teenagers should be allowed to make mistakes so that they can learn from it and figure out eventually what they want. So this film is about those first-times, which happen to you kabhie kabhie but you remember them always.
It sounds like something a film like 3 Idiots said.
Yes, it does. I have met Rajkumar Hirani a couple of times and told him what I'm working on. The only thing is 3 Idiots is about college life and education, my film is about the crust of adulthood, about the first times, about matters of the heart. It says that sometimes one must listen to one's heart, not always, because at times it is actually right.
Raju has encouraged me a lot. He suggested that I must always think from the audience's point of view. I don't know whether I've succeeded, that we can only figure out in the months to come.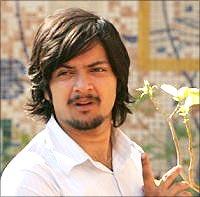 Tell us about the cast.
There are four protagonists. First one is Giselle Monteiro of Love-Aaj Kal fame. She is a Brazilian but trust me, you wouldn't believe that when you see the film. Zoa Morani plays Nandini. We have two boys from theatre background -- one is Satyajit Dubey, and Ali Fazal, who played Joy Lobo in 3 Idiots.
What 'first times' have you captured in AKK?
There is the first bunk, the first big lie, the first major crush, the first time when you were literally slammed by your parents.
It revolves around the sudden freedom, when you are in Class 12. You are about to get out of the uniform but still have to hold yourself back. Class 12 is a strange place to be in. You are about to taste freedom, and you do a little but then it is snatched away from you. In Bombay, you all are lucky; you get to go to Junior college, but not in the rest of the country.
How thrilling is it to debut with a film backed by Shah Rukh Khan's banner?
It is terrific, a once in a lifetime opportunity. I had fresh ideas, certain concepts and I wanted to make a film that had newcomers. That was one aspect of it. At the same time, you need a security blanket and somebody whom you can bounce ideas on, someone who can see you through it. Shah Rukh has been everything, so that's the thrilling part of it.
One more thing is that with such a reputed banner on the master head, there are a whole set of responsibilities and a certain amount of expectations to live up to.
What is the quality that you most like about SRK as a producer?
Sometimes I'm dog-tired but then I look at him and compare it with the things he has done in the entire day, it is negligible. He is working on his own ambitious film and still he finds time to discuss song ideas, script ideas, how a particular shot has to be canned... It is incredible.
Moreover, after so much he still gives me the liberty to do it my way. I love that about him.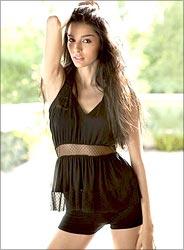 Have you ever felt that it like an interruption on his part?
No. He has worked in over 70 films whereas this is my first. So from Day 1, I realised that he was terribly busy and I shouldn't be popping up at his door too often. Still, that man kept the scope open for me to come to him and discuss various aspects. 
The play on which my story is based was made in 1999, and we were making the film in 2010. There was a gap of decade and that was his first question -- you want to tell a story today which was relatively more valid in 1999? And it made so much of sense. So we had the skeleton, and we fleshed out something more relevant from it.
What did you have to modify in your script to match current sensibilities?
Right from people's fashion sense to the video clock to Facebook. Moreover, there has been a massive change in the lingo of speaking. We had to adapt all these modern sensibilities in the initial script to avoid it from looking dated.
What kind of cinema has influenced you, something that might also reflect in your debut feature film?
My influence has been cinema that stays true to its form and still entertains. For example, I love 3 Idiots. Even films like Om Shanti Om and Main Hoon Na, I think have the core ingredient of fun in them.
I've been a huge fan of Vidhu Vinod Chopra's early works like Khamoshi and Parinda. I also like Vishal Bhardwaj's films like Kaminey. So I guess there are two things, either after watching a film you should feel fully entertained or you should be mighty engrossed for those two to three hours.
It could be done entirely with the content or other aspects of filmmaking like camera work etc. For instance, recently I saw Black Swan. It is such a terrific film. It holds itself right there. Even last year's foreign language winner, The Secret In Their Eyes. One film that influenced me is Dead Poet's Society. I was mesmerised by the way the student-teacher relationship is explored.
In Bollywood, you are a self-confessed fan of?
Mr Bachchan has been my all-time favourite. I've never met a more graceful man than him. At his age, to do what he is doing, it is absolutely incredible.
Secondly, Shah Rukh, and not because he is passionate and energetic or anything but because of his sheer intelligence. He is the most intelligent star of the industry.
And among the younger actors...
I love Ranbir Kapoor because I admire how easy he is with his fame. In this industry, people get scared and insecure with their fame but Ranbir is calm and unaffected.
Then there is Ranveer Singh, who has shaken everybody. He is such an honest performer. He might not be the best looking star but who gives a damn? You see the boy in a frame, and you want to keep looking at him. 
Amongst the actresses, I find Vidya Balan extremely competent. There is Deepika Padukone who is a thorough professional. Then there's Katrina Kaif, who is extremely hard-working. I feel our cinema is evolving and there are actors pouring in of every type. It is in a very good phase.