Rubina-Abhinav get back together again while Rakhi misses her husband.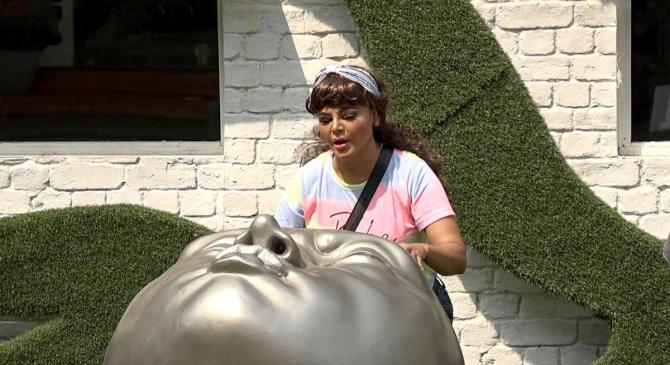 Tuesday's episode begins with Rakhi Sawant trying to open the BB Mall to steal coffee in vain.
She goes into the garden area and tries to keep herself entertained with her antics.
Aly Goni shows Rakhi how to steal from the BB Mall and she ends up taking away the mannequin's wig.
Aly uses it to scare Rakhi and Rubina Dilaik, and the trio have fun together.
Soon Rakhi is back into her comedy zone.
She talks to the mannequin placed in the garden area and refers to it as Bigg Boss.
She even applies oil on the mannequin's bald head.
She states that she is worried how Bigg Boss will complete 100 years without any hair!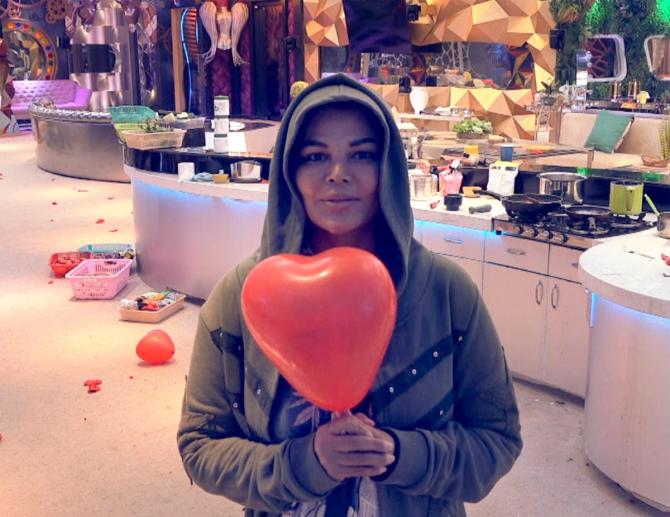 Later, in the kitchen area, Rakhi gets into tiff with Nikki Tamboli over food, as the latter doesn't allow her to eat chutney.
But Aly makes sure Rakhi gets it once the ladies are done arguing.
Soon Bigg Boss announces a Valentine Day's task and Nikki becomes the first Cupid.
She has to burst the balloons of other housemates.
Nikki targets Rakhi and destroys all her balloons.
Then Rakhi becomes Cupid and she takes revenge from Nikki.
The contestants have fun playing the task.
But in the midst of this, Rakhi throws Nikki's belt outside the Bigg Boss house as she is still upset with her.
Rahul bursts Rubina's balloons and in the end, Aly is declared the winner.
As a prize, Bigg Boss gives him access to the BB Mall till the end of the show.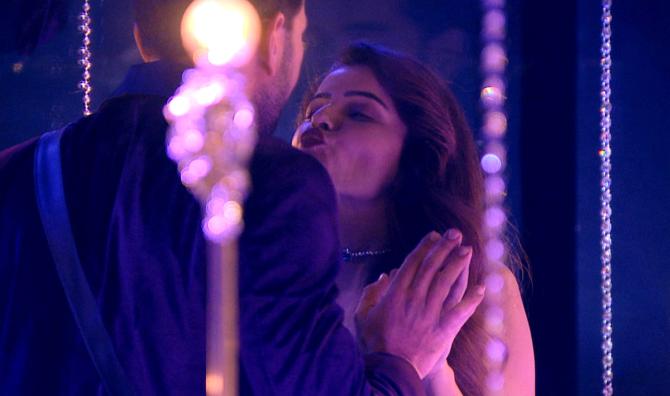 In the evening, Rubina gets emotional when Bigg Boss asks everyone to gather in the living area and talks about the beautiful relationships they have made inside the house.
Bigg Boss lauds Rubina for working on her relationship with Abhinav Shukla and making it stronger.
Rubina is in tears, but she gets excited when she learns Abhinav will enter the house to spend some time with her.
The other housemates decide to make halwa for Abhinav.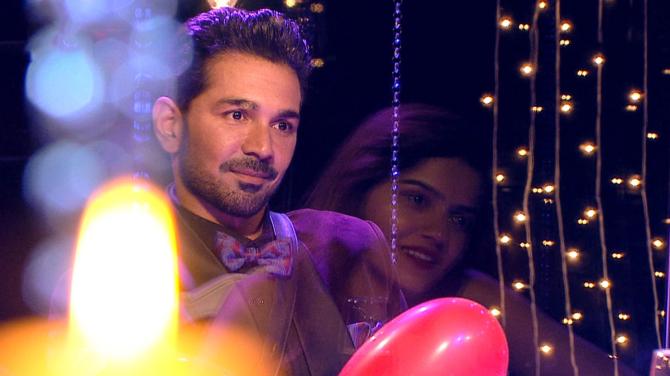 Rubina and Abhinav meet each other and spend some quality time talking about their relationship and how far they have come.
They express their feelings and Abhinav asks Rubina to be him again once she is outside.
Inside the house, Rakhi misses her husband Ritesh and wishes him Happy Valentine's Day while talking to the camera.
She starts crying and reveals that she has never ever celebrated V-Day with her husband.