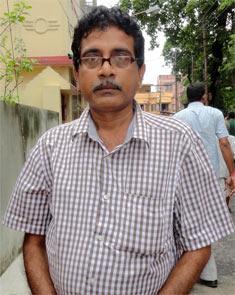 Scores of fans, film personalities and politicians visited late Bengali director Rituparno Ghosh's south Kolkata home to pay homage to the talent.

Many others spoke about their association with the director and paid tribute to him.

Among them was Sujoy Naskar, Ghosh's next door neighbour.
A close friend of Ghosh's brother Indranil aka Chiku, Naskar talks to us about his famous neighbour:


Rituda was a friendly neighbour. Fame rested easy on his shoulders and he never had any airs. We could approach him with any problem and he would always try to arrive at a solution.

He was a loner and was not fond of socialising. But he was an affable man and had an unabashed opinion about life, sexuality, value systems etc.

People often made fun of his sexual orientation but he preferred to ignore the jibes with a stoic indifference.

He was extremely close to his immediate family and was a responsible son and a dutiful elder brother. His parents' death had shaken him to the core and he would often give voice to his pain and misery through his works.

We have been hearing that he was not keeping well. He was suffering from hypertension and diabetes and was on medications. Recently, he was diagnosed with pancreatitis. We also heard that he was ignoring his ill health.

Being his neighbours, we could often get to see his attendants help him climb the stairs on his return from shoots. He looked weak and frail. Yet, his spirit was undaunted.

We all thought, a fighter that he was, he would soon overcome this health condition but we were wrong.
As his avid audience, we will miss Rituda's creativity and his brilliant films. As his neighbour, we will miss his warm smile even more.