'In a super ambitious industry, you stood out for your unfilminess.'
'Thank you for giving my films your iconic voice.'
Singer KK passed into the ages after giving a performance in Kolkata, sending shock waves throughout the film industry.
Many friends and colleagues of the singer paid tribute to him on social media.
Even Prime Minister Narendra Modi felt his loss keenly, and paid tribute to him.
Narendra Modi: Saddened by the untimely demise of noted singer Krishnakumar Kunnath popularly known as KK. His songs reflected a wide range of emotions as struck a chord with people of all age groups. We will always remember him through his songs. Condolences to his family and fans. Om Shanti.
Akshay Kumar: Extremely sad and shocked to know of the sad demise of KK. What a loss! Om Shanti.
Mika Singh: Yet another shocking and heartbreaking news.. the most talented and the down to earth singer @kk_singer_live sadly passed away today. Oh God what is happening? May God bless his soul and he rest in eternal peace. Still in complete shock.
Vicky Kaushal: Your magical voice will live on forever. Thank you for your evergreen songs.
Varun Dhawan: Extremely shocked and sad by the passing away of our beloved kk. A musician whose voice shaped much of my childhood.
Harshdeep Kaur: Just can't believe that our beloved #KK is no more. This really can't be true. The voice of love has gone. This is heartbreaking.
Shreya Ghoshal: I am unable to wrap my head around this news. Numb. #KK Why! This is too hard to accept! Heart is shattered in pieces.
Anu Malik: Shattered beyond words! Gone too soon brother! There never was anyone like you and there never will be!
Sonal Chauhan: A voice that means a little more to me than the others.... A voice that introduced me to the world that defines me ..... A voice that perhaps is the reason why the country fell in love with Zoya..... And a voice that I later got the honour to collaborate with in "kaise bataun tujhe"..... Everytime KK sir touched my life, he created magic.... And that was his gift. His magic went beyond the physical boundaries and touched millions of souls. KK sir you'll always be a little more special to me. I'm keeping a little part of you with me. Thank you for adding your magic to my life. Gone too soon. Wish you had stayed ZARA SA aur Rest In Power.
Emraan Hashmi: A voice and talent like no other.. They don't make them like him anymore. Working on the songs he sang was always that much more special. You will always be in our hearts KK and live eternally through your songs. RIP Legend KK #ripkk
Juhi Chawla: Your soulful voice will remain with us forever. Rest in Peace KK Om Shanti
Chiranjeevi: Heartbroken at the shocking demise of KK. Gone too soon! A fabulous singer and a great soul. He sang 'Daayi Daayi Daama' from 'Indra' for me. My heartfelt condolences to his family & near and dear ones. May his soul rest in peace! #RIPKK
Om Raut: Thank you for the music #KK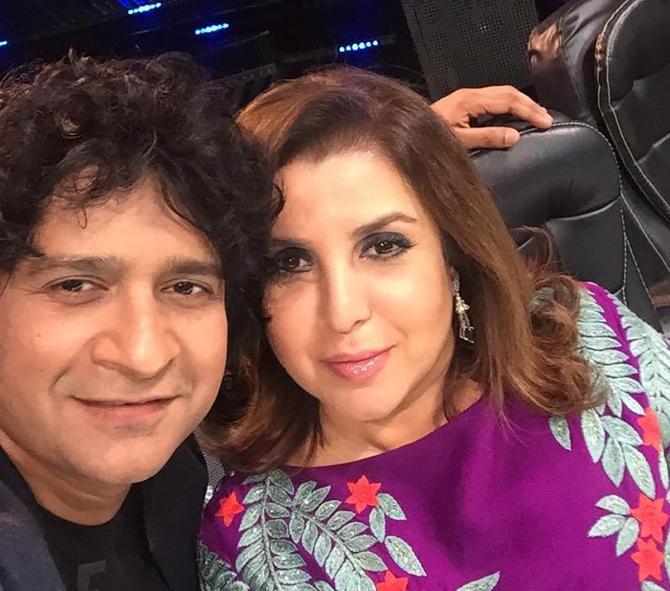 Farah Khan: You have gone too soon KK.. u were so different and Real .. in a super ambitious industry u stood out for your unfilminess.. #realartist thank you for giving my films your iconic voice.
Mini Mathur: KK was always a star. From the moment he stepped on to stage in delhi university and swept every single competition as the kirori mal college participant to singing every block buster song that represents the coming of age of an entire generation.
I knew him since then - the quintessential "good guy" - charming yet shy. Totally committed to his family. Fit, never prone to the wastage of youth. Watching him reach the hearts of millions used to give us all dilli college waalas strange pride.
And being @kabirkhankk's college buddy .. he HAD to sing at least one song in each of his films. Everytime we bumped into him.. he would say milte hain yaar...bas iss concert ke baad. The irony.
I cannot believe life has been so unfair to one of the nicest people in the hood. Tagging my memories of those wonderful days with @kabirkhankk @juliuspackiam @rjnkpr @atulahujaofficial #mohitkapoor @shibanikashyap.
Kumar Sanu: Still can't believe it... K K was performing in Kolkata and fell sick. Declared dead in the hospital. I'm in shock. Life is so unpredictable. He was a fit guy. May God give strength to his family. Om Shanti
Vivek Oberoi: Can't believe KK is gone. It's a sad day for all of us. Always loved his voice and cherished his songs. Thanks for giving me O Humdum Suniyo Re, everytime I hear it, I will think of you brother.
Heaven has become a more melodious place today while we are left with only your voice and the memories. Om shanti!
Dia Mirza: This feels so personal KK...you always filled my heart with love...The nicest human being and the most soulful voice. You live in our hearts forever Om Shanti.
Rohit Roy: When you feel such deep pain at the passing of a person who you didn't know very closely proves how KK touched all our lives with his mellifluous voice ... Like @vishaldadlani once said, KK har gaane ko 'roshan' kar deta hai....... Rest in Peace my friend
Arjun Rampal: No no no. Numb. Can't stop the tears. Cause your voice filled our hearts with love. RIP KK. #gonetoosoon #kk
Tusshar Kapoor: This is so shocking... that such a young and talented person has suddenly left us....#RIPKK You were the heart and soul of the title tracks of #mujhekucchkehnahai #kyaakoolhainhum and even #dildingdongdingdole ,among numerous other songs! I felt like you were my voice for movie songs! Thank you for your immense contribution to my body of film work ! The world has lost a gem! Amen
Kapil Sharma: अभी कुछ समय पहले मुलाक़ात हुयी थी, क्या ख़ूबसूरत शाम थी, पता नहीं था वो मुलाक़ात आख़िरी होगी, दिल बहुत उदास है,ईश्वर आपको अपने चरणो में स्थान दे, बाक़ी हमारे दिलों में तो आप हमेशा रहेंगे. अलविदा भाई ओम् शांति #KK
Sharad Kelkar: Shocking You will always be remembered through your magnetic voice. Om Shanti.
Mamata Banerjee: The sudden and untimely demise of the Bollywood playback singer KK shocks and saddens us. My colleagues have been working from last night to ensure that all requisite support is given for necessary formalities, his rites and to his family now. My deep condolences.
Himesh Reshammiya: Extremely shocking to hear this , we have lost a gem , a legend , will miss you and your voice bro, RIP.
Shael Oswal: Shocked and shattered, This feels so personal & devastating. KK was not only a great singer but a great human too. You were a great inspiration, a great friend, a humble and a kind man.
When I had just started out professionaly, I remember meeting you and telling you how much I loved Pal, and how you inspired me to pursue melodies. It was always precious meeting you subsequently which blossomed into a beautiful relationship.
Thank you for the music KK, they don't make them like you anymore.