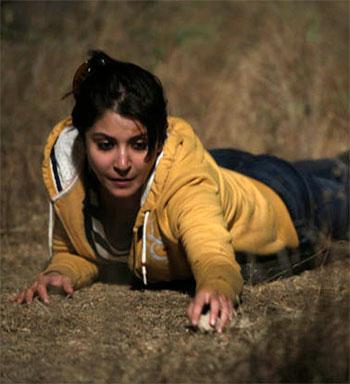 R
ift in the Censor Board was all out in the open today with filmmaker Ashoke Pandit accusing chairman Pahlaj Nihalani of being a 'tyrant' and creating an 'anarchic environment' while another member Chandraprakash Dwivedi voiced discontent over its functioning.

Pandit took to Facebook to slam Nihalani, saying Anushka Sharma's NH10 was a victim of his 'crass functioning'.
The film's release was postponed by a week due to the Censor Board's objection to certain scenes in it. It will now release Friday, March 13.

'Nihalani's diktats are supported neither by logic nor law, nor does he appreciate the intelligence of the film-maker and the audience. He literally functions like an archaic monarch treating CBFC and its office like his own fiefdom,' Pandit wrote in a letter posted on Facebook.


Pandit's letter also names Dwivedi, Mihir Bhutala and Nandini Sardesai among members who were disappointed by Nihalani's diktats.

In a strongly-worded letter to Nihalani, Dwivedi regretted that collective decisions of the Board were being ignored and sought an urgent meeting to address 'uncomfortable issues'.
"I have started feeling uncomfortable of being a part of an esteemed institution where, collective decision of the board
is ignored or collective voice is unheard," he said.
Nihalani did not respond to phone calls or messages seeking his views on remarks made by the two Board members.
In an apparent reference to hurdles faced by Hollywood film Fifty Shades of Grey in getting clearance for release in India, Pandit said Nihalani's "ridiculous diktats and autocratic functioning" had made CBFC a laughing stock.


"The biggest victim of his warped world view is the Hollywood films which are finding it difficult to get a clearance through the certification board because it does not suit the absent sensibilities of Nihalani. Films after films are becoming innocent victims of his mindless tyranny. The recent victim of his crass functioning is NH10," he wrote in the letter.
The board has been embroiled in controversies since Nihalani was appointed by the Narendra Modi government following
Leela Samson
's resignation.
A circular issued by him, banning cuss words triggered widespread criticism and was subsequently put on hold.
© Copyright 2021 PTI. All rights reserved. Republication or redistribution of PTI content, including by framing or similar means, is expressly prohibited without the prior written consent.