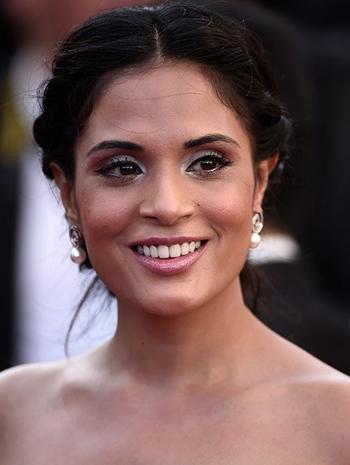 Not only does Richa Chadha have a nose for picking interesting roles, but her olfactory system also seems to help her prepare for them.
Before starting on a project, she selects a fragrance that is harmonious with her on-screen personality.
Left: Richa Chadha. Photograph: Ian Gavan/Getty Images
For the upcoming Cabaret where she portrays a dancer, for instance, she chose the heavily sensual Her by Narciso Rodriguez.

During Gangs of Wasseypur, an earthy ittar drawn from jasmine flowers allowed her to play a small-town Muslim woman.
While essaying a colourful Delhi gangster called Bholi Punjaban in Fukrey, she coupled the perfume Provocative Woman with a lipstick called Lady Danger.

"All this adds in building a character. I spray the scent and feel like a different person."
At the recent Cannes film festival, while Indian newspapers and social media keenly dissected the outfits of Sonam Kapoor and Aishwarya Rai, Chadha calmly made her second appearance at the prestigious event.

It was her films and not brand commitments that took Chadha there on both occasions.
Her latest, Masaan, directed by Neeraj Ghaywan, was awarded by the International Federation of Film Critics and given a special prize for debut films at the festival.

When it was screened in the Un Certain Regard section, which runs parallel to the main competition at Cannes, Masaan reportedly got a five-minute standing ovation.
Ghaywan says Chadha was often mobbed by photographers. "I am being spoilt by international attention now," she says.
During her first appearance at Cannes in 2012 for Anurag Kashyap's Gangs of Wasseypur, Chadha had felt naive.

"I was new and did not have my bearings together." On the second occasion, conversely, she knew how to style and carry herself.
At a dimly-lit cafe in the suburbs where we meet weeks after the festival, she is in a sporty white dress and high heels.
A Mumbai resident but constantly travelling, Chadha is back in the city to shoot a cameo for Chalk and Duster, the directorial debut of make-up artist Subhash Singh.

She has a mix of commercial and offbeat films lined up including Pooja Bhatt's Cabaret and Sudhir Mishra's Aur Devdas.
"I admire your work," one diner in a group on the next table tells her.

While Chadha poses for pictures, an attendant at the cafe discreetly asks her publicist about the actress.

Her face is familiar, he confesses, but none of her mostly content-driven films ring a bell.
After the pictures are done, Chadha ties her hair into a modish bun and settles into a corner seat for the interview.

Nursing a cup of strong black coffee with both hands, she comes across as unpretentious yet self-assured.
Perhaps the most enduring character in Gangs of Wasseypur and Chadha's career so far is feisty Nagma Khatoon.

In the bloody tale about the coal mafia, the actress plays a woman who marries a philanderer, raises three sons by herself and reunites with her husband years later, only to see him murdered shortly.
The span of the two-part film sees her transforming from young bride to middle-aged mother.
Chadha was 24 at the time and this was her third film.

It released four years after her debut, Oye Lucky Lucky Oye.

A relatively nondescript Benny and Babloo, and a play, Kennedy Bridge, with Khalid Mohamed kept her busy in the interim.

The latter prepared her for the role of Khatoon in Kashyap's vehicle because her character in the theatre production also ages by several years.
Chadha's approach to acting is guided more by impulse than immersion.

The 'method' style would drive her crazy. "What if I have to play a murderer?"

Typically, she reads the script once and thinks about it. The best ideas come to her in the shower and she keenly notes gestures and postures in people.

"I can't design a shot to be great. I let my subconscious mind take over. Then something magical happens and I let it happen."
One such moment, Chadha believes, came in the song Taar Bijli Se Patle Hamare Piya in the second installment of Gangs of Wasseypur.

Set in the marriage ceremony of her character's middle son, not long after her first son has died, her emotions were required to travel from cheer to melancholy to healing.

After the portion was shot, an elderly woman among the extras cried, hugged and blessed her, she recalls.
Director Ghaywan wrote the part of Devi in Masaan with Chadha in mind.

Constructed from interviews with young, small-town women, Devi is a Benares girl caught in a scandal after a sexual encounter.

"There are few dialogues but you see her a lot. It is a complex character and a lot had to be internalised," says Ghaywan.
For inspiration, Chadha watched performances in a few films including Marion Cotillard's in Two Days, One Night and Juliette Binoche's in Three Colors: Blue.

"She does not overprepare. She prepares," notes Sudhir Mishra, who cast her as a bolder version of Sarat Chandra Chattopadhyay's Paro in his Aur Devdas.
It also helps when film makers offer a clear vision of the character, as has been the case with most of her directors including Kashyap, Mira Nair, Mishra and most recently Ghaywan.

Under Kashyap's captaincy, she enjoyed the freedom to improvise.

With Nair who directed her in a segment of Words with Gods, she learnt how to bring multiple shades to a role - clever and needy, sweet and authoritative.
Off screen, the actress is jovial and comfortable with people, says Ghaywan.

"But as soon as you say action, within a split second she is a completely different person."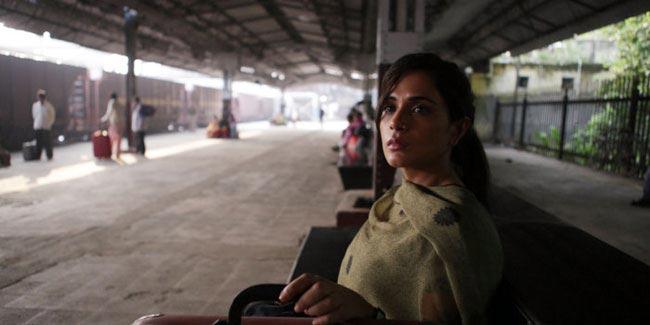 Image: Richa Chadha in Masaan
While some actresses tend to go with physicality and are conscious of beauty, Chadha was okay with being completely de-glam, without jewellery and make up, he points out.
"She considers herself an actor more than a celebrity," Ghaywan says.

Mishra agrees, saying she is she is casual and non-fussy in interactions on the set. She also has the ability to surprise the director, he adds.
A former Delhi resident, Chadha puts up a passionate defence for the capital.

Its people are gregarious and open-hearted, she says. "Sure it is the crime capital but it is landlocked on all four sides.

As opposed to Bombay, it is easy to commit a crime in Delhi and get out."
When she was two years old, Chadha's parents had been forced to move to Delhi from Amritsar in the violence following the Khalistan unrest.

Her father is a consultant in matters of HR and management, while her mother is a professor at Delhi University.
She knew she had potential when, as a child, her impressions of her parents cracked up relatives. Her brother is an aspiring musician.

Days off are hard to come by but the actress likes to watch films and plays or read in hours of leisure.
Chadha had moved to Mumbai as a student of media and communication less than a decade ago.

She routinely took up advertisements and small modelling jobs then, and landed her first role quite easily after an audition.
The actress has been on the opposite side of the table too during an internship as a journalist for Man's World magazine, she informs. At the time, Abhay Deol had declined an interview request from her but the two would go on to work together in Chadha's debut film a year later.

"I never brought up the incident. He probably still does not know."
That was the beginning of Chadha's quiet accomplishments.