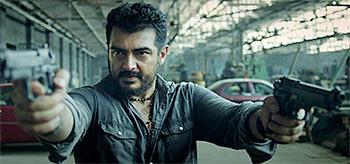 The backdrop of Yennai Arindhaal is new and the plot is engaging, but the characters, the situation, and even the dialogues are reminiscences of director Gautham Menon's previous cop films, writes S Saraswathi.
After the spectacular success of Kaakha Kaakha with Suriya and Kamal Haasan's Vettaiyadu Vilaiyadu, director Gautham Menon teams up with Ajith for yet another cop film.

Titled, Yennai Arindhaal, the film follows an almost similar template -- more like a mashup of the two films.

Ajith plays an honest cop, Sathyadev, whose passion and integrity for his job gets his fiance Hemanika (Trisha Krishnan) killed.

The film chronicles the life of young Sathyadev from his teenage years to his life as a cop, an unmarried father and eventually the retribution.

The narrative alternates between the present, wherein he is trying to prevent Thenmozhi (Anushka Shetty) from getting killed, and his tragic past with Hemanika.

As a school-going youngster, Sathyadev's mother wants him to be a doctor. But destiny has other plans for him. The senseless death of his father at the hands of a gangster motivates him to join the police force.

Typical to Gautham's cop characters, there is a mature, understated, yet menacing quality to Sathyadev.

Even without appearing to do so, the director has cleverly catered to Ajith's mass hero image.

Sathyadev befriends a dangerous gangster, Victor (Arun Vijay) to get to his boss. The charade finally ends with the boss's death leaving Victor furious at his friend's betrayal. Victor is arrested and sentenced to jail, but he vows revenge. Life moves on.

During one of his investigations, Ajith meets the hugely pregnant Hemanika (Trisha), and drives her to the hospital. Coincidentally, they meet again a couple of years later and he is introduced to her young daughter Isha (Baby Anikha). Sathyadev promptly falls in love with both. They get engaged, but the night before the wedding, Hemanika is brutally murdered.

A distraught Sathyadev, has to sift through his long list of enemies to find the killer, but he is worried about getting himself killed and leaving Isha all alone in the world. He decides to quit his job.

How he eventually comes face to face with Hemanika's killer forms the rest of the story.

The first half moves briskly, introducing many new characters and situations, keeping you totally engrossed, but the second goes off track and lacks momentum.

Ajith as usual takes center stage, but Arun Vijay is equally impressive. He looks extremely tough and fit, in contrast with Ajith, who seems rather overweight. But there is no mistaking Ajith's magnetic screen presence; he can drive the audience to frenzy with just a smile.

Anushka has little to do, but the beautiful chemistry shared by the lovely Trisha and charming Ajith, definitely works big time.

Music by Harris Jayaraj and cinematography by Australian filmmaker Dan Macarthur do the director proud, but the editing could have been better.

The backdrop is new, and the plot engaging but the characters, the situation, and even the dialogues are reminiscences of his previous cop films.
With Yennai Arindhaal, director Gautham Menon perhaps completes his cop trilogy.
Rediff Rating: