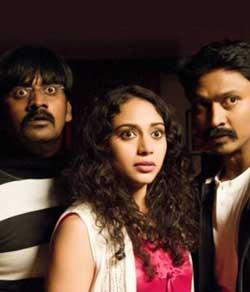 Yaamirukka Bayamey is a well-executed horror comedy that revolves around four eccentric characters and their hilarious attempts to run a guesthouse at a haunted mansion, writes S Saraswathi.
Everything Comedy seems to be the mantra these days. After innumerable rom-coms and black comedies, debutant director Deekay has now crafted a new genre: horror comedy.
Elred Kumar, who produced Yaamirukka Bayamey, has also steered popular films like Vinnaithandi Varuvaya and Ko under the RS Infotainment banner.
The title, however, is not to be confused with 'yaamirukka bayamen', which when translated means 'why fear when I am here' and is often used in reference to the Almighty.
Director Deekay's Yaamirukka Bayamey actually means 'fear when I am here' and is all about Satan.
Kiran (Kreshna), a cheat, who makes a living selling miracle cures for impotency, suddenly finds himself out of a job when the government bans his product. He is now hounded by a local goon, whose sex life is destroyed by Kresha's phony medicine and a loan shark, who wants his money back.
Escape comes in the form of an inheritance.
A father, who he has never heard of, bequeaths on him an old run-down mansion at Kolliyur, a hill station. It is here that he meets Sharath (Karunakaran), who tells him of his father's desire to open a guesthouse at the mansion.
Kiran has a girlfriend Smithi (Rupa Manjari), who convinces him that it would be a great solution for all their woes. Together they renovate the mansion with the help of Sharath, who wants to be the manager of the guesthouse and his sister Saranya (Oviya), who would be the cook.
The first guests arrive and everyone is ecstatic. To their horror, the very next day the couple end up dead. And this is just the beginning; every guest who comes to the house dies under mysterious conditions.
Afraid to tell the police and sully the name of the guesthouse, they bury all the bodies, which just keep piling up.
The police finally land at their doorstep, but what they eventually discover is even more terrifying.
Will they ever be able to get out of the guesthouse alive is what makes the rest of the story.
Director Deekay has skillfully narrated a hilarious tale of horror that keeps you totally engrossed with loads of humour tempered with just the right amount of horror.
All the lead actors have performed admirably; there is a touch of eccentricity and wackiness to all the characters that adds to the ambience of the film. Mayilsamy's cameo towards the end of the film keeps the audience engrossed.
Also making his debut is composer S N Prasad, who is excellent with the background score, though a couple of songs do seem out of sync.
Cinematographer, Rammy, also a newcomer, has done an admirable job behind the camera.
The highlight undoubtedly is Sreekar Prasad's editing, who keeps the story moving, pacing it brilliantly, and maintaining both the comic as well as the gruesome bits.
On the downside, there are plenty of unanswered questions, and few ridiculously exaggerated scenes; fortunately, none go on forever.
There are plenty of exciting twists that keep you glued to the screen, alternately roaring with laughter or shutting your eyes in terror. A clever script, good all round performances along with excellent support from the technical team make Deekay's Yaamirukka Bayamey definitely worth a watch.
Rediff Rating: