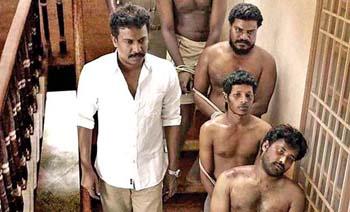 Visaranai is a brutally honest film, feels S Saraswathi.
After winning several international accolades, director Vetrimaaran's Visaranai finally hits the screens this weekend.
Based on the novel Lock Up written by M Chandrakumar, an auto driver from Coimbatore, the film narrates his own bitter experiences.
The film is a brutally honest portrayal of what goes on behind the closed doors of a police lock up under the guise of an interrogation (Visaranai in Tamil). The arrogance of those in power and the utter helplessness of those caught in the web of the justice system is unthinkable. Once in custody, the nightmare never ends.
What makes it truly terrifying is the knowledge that the plot is not the result of someone's imagination but is based on true incidents.
A robbery takes place at the Brindavan Colony, Guntur, Andhra Pradesh and the police officials are under a lot of pressure to close the high-profile case. Their only clue to this crime is that the miscreants spoke Tamil fluently. Armed with this flimsy
piece of evidence, the police begin their manhunt and an innocent laborer going home after a late night show gets caught.
His capture leads the police to his three friends and thus begins the ordeal of four innocent migrant laborers, Pandi (Dinesh), Murugan (Aadukalam Murugadoss), Afsal (Silambarasan) and Kumar (Pradeesh) from Tamil Nadu, whose only crime is speaking their mother tongue.
What is unfortunate is that no one even translates the accusations that are being hurled at them in Telugu.
Every moment of their pain, torture and humiliation has been perfectly captured by cameraman S Ramalingam, while GV Prakash's haunting background score makes it even more real. The sound of the heavy lathis striking the bare flesh, mixed with cries of unbearable pain and agony make you flinch.
Director Vetrimaaran deserves credit for having extracted the best from all his actors. They are so remarkable you sense their terror as they stutter and stumble with their broken and bruised bodies. The hard-hitting screenplay is relentless, making no effort to shield you from the harsh realities of the ruthless world we live in today.
Lockup deaths and police encounters will no longer be mere newspaper reports after watching Visaranai, as the film sends across a chilling message.
Rediff Rating: