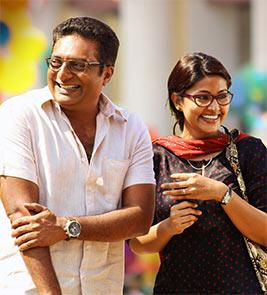 Prakash Raj's Un Samayal Arayil is a thoroughly enjoyable light romantic comedy set in the backdrop of an intense passion and love for food and cooking, says S Saraswathi.
Thought-provoking, unconventional stories revolving around human relationships and emotions with just the right mix of commercialism has been the trademark of all Prakash Raj's films.
As an actor, director and producer par excellence, he has given us many memorable films.
His latest directorial venture is the remake of Aashiq Abu's Malayalam super hit Salt N' Pepper.
The film is a trilingual and is being simultaneously released in Tamil (Un Samayal Arayil), Kannada (Oggarane) and Telugu (Ulavacharu Biryani).
Prakash Raj himself plays the lead role along with Sneha. Urvashi, Tejus and Samyuktha Hornad play significant roles.
As the title Un Samayal Arayil (in your kitchen) suggests, a deep passion for culinary delights forms the essence of the film.
Kalidasan (Prakash Raj), a middle-aged archeologist, is a loner who lives with a distant relative Vaidhi (Kumaravel) and his cook Krishna (Thambi Ramaiah). He is absolutely crazy about food.
Gowri (Sneha) is a dubbing artist whose love for food stems from a deep devotion to her deceased mother, who was a great cook.
Both have passed the conventional age of marriage and intend to stay single. A misdialled call, however, brings the two together.
Gowri calls a popular restaurant to order Kutti Dosa, a delicacy she adores, but the call accidentally lands in Kalidasan's house. Though their relationship starts on a wrong note with both abusing each other, their mutual love for food and cooking eventually draws them together.
After several exchanges over the phone, the two decide to meet. But as the day approaches, both get cold feet.
Apprehensive about their looks, they both decide to send younger and more desirable proxies to create a better impression.
Kalidasan sends his nephew, Naveen (Tejus) and Gowri sends her friend and roommate, Meghana (Samyuktha Hornad) to their first meeting.
Naveen and Meghana introduce themselves as Kalidasan and Gowri and the ensuing confusion forms the rest of the story.
With seasoned actors Prakash Raj and Sneha, you are treated to some top class performances.
Even newcomers Tejus and Samyuktha are impressive. They are well supported by Thambi Ramaiah, Elango Kumaravel, Urvashi and Aishwarya.
But the superstar of the film is undoubtedly the delectable mouth-watering dishes that get you drooling.
The characters' enthusiasm and passion for cooking and food makes you crave for a taste.
Ilaiyaraja's flawless composition is also without doubt one of the high points of the film.
And cinematographer Preetha of Abhiyum Naanum has simply outdone herself.
Her camera captures it all, be it the lip-smacking dishes, the tender moments of love, the uninhibited laughter, the insecurities and some great song picturisations.
On the downside, the subplot and the need to bring in a villain seem totally unwarranted. Also, the film drags a little in the second half when the narrative veers off the main characters.
Prakash Raj has once again chosen a great script and executed it perfectly.
Un Samayal Arayil is refreshingly different and definitely worth watching.
Rediff Rating: