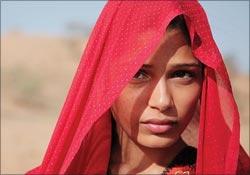 Beautiful shots, stunning music and rich performances make Trishna a pleasant watch, writes Aseem Chhabra


Nearly half an hour into Michael Winterbottom's
Trishna
, its protagonist Jay (Pakistani-British actor Riz Ahmed) instructs a young and naive Trishna (Freida Pinto) in the art of the bird-whistle. Jay twists his lips, slowly blowing air through the upper part of his mouth. Trishna shapes her lips in the same fashion, but alas can produce no sound.
It is an innocent yet joyful scene: a magical cinematic sequence. Winterbottom, one of the most eclectic of British filmmakers, lovingly captures the playfulness of the moment as his leads -- Jay, the UK-educated son of a hotelier, and Trishna, the poor girl from rural Rajasthan -- she inside a birdcage and he watching her from outside, somewhat overcome their class differences. There is also an underlying sexual tension in the air as two young people from different parts of the society make a connection.
Situations like this make
Trishna
, Winterbottom's adaptation of Thomas Hardy's
Tess of the d'Urbervilles
and his third film based on the British master's works (he also directed his versions of
The Mayor of Casterbridge
and
Jude
) -- a pleasure to watch.
There is a lot of beauty in
Trishna
. The film has rich performances by the lead actors Pinto and the seductively charming Ahmed. Coupled with that,
Trishna
is beautifully shot -- capturing the quietude of Rajasthan and its fine hotels, as also the street energy of Jaipur and Mumbai. 
And then there is the film's stunning music -- terrific compositions by the young genius Amit Trivedi, layered with a haunting score by Shigeru Umebayashi, reminiscent of his classic
Yumeji's Theme
from Wong Kar-wai's masterpiece
In The Mood For Love
. In another surprise, Winterbottom skillfully uses two of Nusrat Fateh Ali Khan's
qawallis
in the first act of the film.
For Hardy loyalists, it is important to note that in
Trishna
Winterbottom ably adapts the class disparities of 19th century England to modern day India. There are a couple of differences between the novel and the film, a major change being that Winterbottom's Jay is a combination of Hardy's two male characters Angel Clare and Alec d'Urberville.  Winterbottom had worked with Ahmed in
Road to Guantanamo
and he sensed that the very talented actor (soon to be seen in Mira Nair's
The Reluctant Fundamentalist
) could play the complexities of both the characters. It is a risk, but Winterbottom makes the right call.
Ahmed is a caring Jay who takes fancy to Pinto's Trishna, offers her a job at his father's hotel, finds
her hotel management courses to advance her career, but also seduces her and makes her pregnant. After Trishna leaves the hotel, Jay comes looking for her, once again sweeping the young woman off her feet, and then immersing her into the glittering world of Mumbai and its Bollywood industry (represented by the film's co-producer Anurag Kashyap, who in a brief and an odd performance acts as himself along with his wife Kalki Koechlin). 
The Mumbai section -- while giving Pinto's Trishna a sense of freedom from the stifling world in Rajasthan, is a weak part in an otherwise fine film. Winterbottom worked without a bound script, giving his actors room to improvise their dialogues and develop their characters. Meanwhile, Winterbottom becomes fascinated by Mumbai, preoccupied with showing us the city's cool restaurants, shops, hip parties, and the workings of Bollywood industry along with the lives of the extras and the hanger-ons. 
It is an interesting anthropological study with Trivedi's -- 
Lagan Lagi Re
, sung by Kavita Seth and Shreya Ghoshal, playing in the background. That song stays with the viewer, but
Trishna
briefly loses its sense of narrative direction in the Mumbai section.
But Winterbottom is a seasoned filmmaker and he eventually does not fail his audience.  He brings back his lovers to Rajasthan, as circumstances force Jay to take charge of his father's hotel.  By now Jay is unhappy with his life, spending days drowned in alcohol and smoking marijuana, tossed with the daily ritual of afternoon sex with Trishna. A word of caution for the faint hearted: at this juncture, Trishna takes on the harshest tone of Hardy's class differences between its protagonists and becomes a devastatingly difficult film to watch -- good cinema, but rather shocking for the senses.
Trishna
is Pinto's first fully realized role. The success of
Slumdog Millionaire
suddenly opened major doors for Pinto, but her work remained uneven.  She failed to impress in Julian Schnabel's
Miral
-- a film troubled by its muddled and flat screenplay and was equally forgettable in Tarsem's embarrassing
Immortals
.  In Trishna she gives her best performance in her four-years and six-films long career. 
Ahmed is the rockstar of
Trishna
-- playing many layers of Jay's personalities, a seemingly good-hearted young expat, who by the end of the film becomes nasty, self absorbed and despicable. It is a meaty role that Ahmed plays exceptionally well.
As
Trishna
's end credits role, we once again hear
Lagan Lagi Re
-- easily one of the best Hindi songs of the year. That magical quality of the film stays with the audience after they leave the theater.
Rediff Rating: