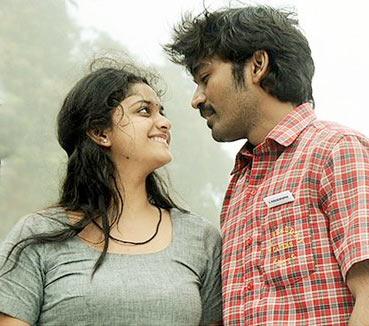 Good performances and an interesting screenplay make Prabhu Solomon's Thodari worth a watch, feels S Saraswathi.
Kumki director Prabhu Solomon is known for his heartwarming tales of love set against spectacular locations with down-to-earth characters caught in a difficult situation. His latest venture Thodari, starring Dhanush and Keerthy Suresh, is no different.
Dhanush plays Poochiyappan, a simple pantry boy serving the passengers of an ill-fated train travelling from Delhi to Chennai.
The entire film, even the songs have been shot in or on the train, and we are treated to some stunning visuals by cinematographer Vetrivel Mahendran.
The film starts at a busy platform in Delhi and ends at the Central Station in Chennai. And as the journey progresses, we are introduced to its characters.
Keerthy plays a Malayali girl working as makeup assistant to a popular actress travelling in the train. Then, there's the Central Minister Rangaraj (Radha Ravi) and his security guard Commando Nandhakumar (Harish Uthaman).
While Poochiyappan falls head over heels in love with the lovely Saroja, it is hate at first sight with Nandhakumar.
Nandhakumar does not like Saroja getting close to Poochiyappan. Their fight escalates and both vow to kill each other. There are some irrelevant scenes with insensitive remarks by these actors against the people of Tamil Nadu and Kerala. This at a time when Tamil Nadu is already reeling under problems with one of its neighbours seems totally tactless.
Even as love blooms between Poochiyappan and Saroja, the train is thrown into a crisis. The driver of the train succumbs to a heart attack and at the same time, a bunch of miscreants enter the train with plans to loot the passengers.
There is complete chaos with the unmanned train hurtling along in full speed.
The film has some interesting light moments. Thambi Ramaiah, as the pantry manager, and Karunakaran, as Dhanush's friend, are a laugh riot.
Romance, action or emotion, Dhanush is in his element. As is Keerthy, with her girl-next-door look.
Radha Ravi, as the cynical minister, has some clever dialogues. He is as convincing as Harish.
What lets the film down is the meandering first half, melodramatic climax and poor computer generated visuals.
Music by Imman seems familiar.
The fight sequences do not stand out.
Director Prabhu Solomon has never shied away from a tragic climax in his films and this keeps the audience in suspense till the end.
Good performances and an interesting screenplay with plenty of fun moments make Prabhu Solomon's Thodari a decent attempt.
Rediff Rating: