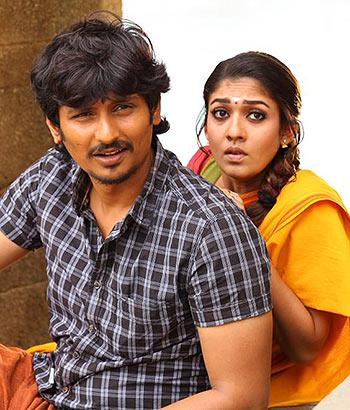 The worn-out plot, excessive violence and loud dramatic music make Thirunaal a dark and unappealing tale, writes S Saraswathi.
After making his debut with a light-hearted comedy drama Ambasamudram Ambani in 2010, director P S Ramnath chooses a dark subject for his next venture.
Ironically titled Thirunaal, which means auspicious day, the film revolves around the miserable life of rowdies, who can never hope to find happiness in their lives.
The concept has been done to death in Tamil cinema and Ramnath has nothing new to add to the message that violence begets violence.
Set against a rural backdrop, we are introduced to local rowdy Naga (Sharath Lohitashwa) in the opening scene.
Naga has a track record of murdering a judge, and is feared by all. His right hand man is Blade (Jiiva) is an orphan, mentored by Naga. Blade does all his dirty work.
Blade's loyalty makes little impression on Naga, who treats him like dirt.
Life begins to change when Blade falls in love with a school teacher Vidhya (Nayanthara), daughter of Naga's business partner.
Matters come to a head when Naga double crosses his partner and Blade is forced to pick sides. Torn between loyalty to his mentor and the desire to start a new life, Blade finds himself in a dilemma.
There is not much romance nor humour to break the monotony of the endless violence and betrayal that permeates every scene with far too many bad guys looking dark and menacing.
Music by Srikanth Deva is too loud and dramatic. Needless songs continually interrupt the narrative.
Nayanthara has been given plenty of screen time, but her character has little to offer to the film. But unlike typical heroines, she does not try to reform the hero.
The film is undoubtedly Jiiva's show all the way. There is a subtlety to his performance that is interesting, be it as the aggressive gang member or the hesitant lover.
Sharath Lohitashwa as ruthless Naga is impressive, and so is Neeya Naana fame Gopinath, in a cameo.
The talented Karunas, however, has little to do and neither does comedy actor Ramdoss, who tries to evoke some laughter with his silly antics.
Quite like Ambasamudram Ambani that preached that hard work makes everything possible, Thirunaal also has a relevant social message. But the worn-out plot, excessive violence and loud dramatic music make Thirunaal a dark and unappealing tale.
Rediff Rating: