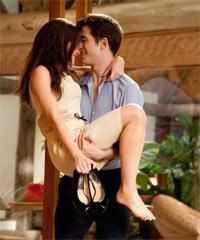 A whole bunch of issues are crammed in The Twilight Saga: Breaking Dawn, robbing the romance of all its lightweight conflicts, writes Sukanya Verma.

The beauty of a fantasy is how disconnected it is from reality. And at some point, everyone gets on this incredible flight of imagination to embrace the elusive or fashion their own implausibility. It's only when one delves beyond a happily-ever-after, the practicality of a situation rears its ugly head, putting an official end to the dream. 
Catering to the teen girl psyche obsessed with dashing and dangerous, Stephenie Meyer's
Twilight
saga has always been about and around the pristine Bella Swan (Kristen Stewart) and her outrageous love life. In the first half of Meyer's final installment, sketchily adapted by Melissa Rosenberg, director Bill Condon crams in a whole bunch of issues -- marriage, pregnancy, childbirth -- robbing the romance of all its lightweight conflicts to create an environment of half-hearted drama and laughable sentimentality. Welcome to the
Bold and Beautiful
of the brain dead.
As a self-conscious teenager juggling between her intense yearnings for Edward Cullen (Robert Pattinson), a glamorous vampire of gorgeous blue-green eyes and salon-fresh mane alongside a compulsive attachment for the quick-tempered, brawny, werewolf Jacob Black (Taylor Lautner), Bella has relentlessly dragged her ridiculous soap opera-of-a-heartache for four and a half movies --
Twilight
,
New Moon
,
Eclipse
and, finally,
Breaking Dawn-Part 1
.
Only this is not Karan Johar's
Kuch Kuch Hota Hai
and Edward cannot die anymore than he already has to make way for Jacob and put an end to our misery. Moreover, Bella, barely 18, is in a ridiculous rush to walk down the aisle and turn into one of the bloodsuckers before she begins to look older than Edward. 
All the cosmetics in the world, however, cannot conceal Pattinson's natural ageing process. He's obviously grown-up since his first appearance as the 100-something old Cullen. His emoting skills haven't matured a notch though. He probably doesn't even realise this in the company of predominantly non-actors.
Nevertheless, the man's quite an eyeful even when he stands stiff delivering a loving speech to his new bride, 'No measure of time with you will be long enough. But let's start with forever,' amidst a gorgeously white surrounding of roses, lilacs and sublime candles with humans, vampires and werewolves in attendance. Just as the trailer promised, this unique union is a grand and classy affair with an ethereal Bella sashaying to the 'I do' point in an ivory-hued, floor-sweeping
silk and lace Carolina Herrera creation.
 Ideally, the movie could have ended at them kiss whilst waltzing to the tunes of Carter Burwell's sweet-sounding score and no one would notice how the groom and his relations haven't touched a bite of that marvelous wedding cake.
Clearly, a best-selling author knows better than that. And so there's a
Mills & Boons
brand of honeymoon at a plush Brazilian island for Twihards to devour the visual they have been waiting for -- Edward and Bella going all the way.
Shattered furniture is as far as it gets.
Averse to causing any further damage, Edward does an audience and loses interest prompting Bella's insecure side and seductive nightwear to show up. But because Stewart is such a compelling actress, she infuses charm and credibility to her teenaged alter ego's absurd impulses and conviction.
How else do you make sense of a pregnant Bella with a bulging belly in a matter of weeks? Her strange desperation to become a mother at the cost of risking her life, while everyone nods their head like a dummy, is never really explained. Last time we checked, this wannabe martyr wasn't even keen on exchanging vows and agreed because that's the only way Edward would consummate their relationship. And now she's sucking on rat blood from a tumbler like a PRO? Whoa, slow down Rosemary. So much for being an extravagant, girly fantasy.
Still, it's not the worst
Twilight
movie in the series. That distinction is still safe with the awfully mawkish and excruciatingly long,
New Moon
. After a photogenic beginning and lackluster middle, 
Breaking Dawn
redeems itself at the fag end with a gruesome but emphatic imagery of Bella in labour, setting a precarious tone for the concluding chapter of the franchise. Except that nearly two hours are wasted in establishing very little, underscoring the needless yet exploitative exercise of splitting a volume into two.
Making it even more obvious is a deadpan Lautner (Team Jacob, seriously?) huffing-puffing every few minutes like an annoying snooze alarm that's trying to say, 'Hey, I am in the movie too.' He's not alone. There are several others like Nikki Reed, Kellan Lutz, Ashley Green, Anna Kendrick, reduced to glorified extras in a movie where a wedding gown garners more attention than man, wolf or vampire.
Rediff Rating: