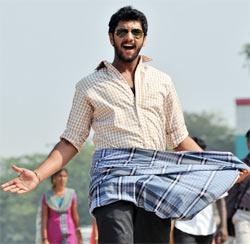 The story of Thagararu moves along at a brisk pace with lots of comedy and well defined roles for all the characters, writes S Saraswathi.

Thagararu produced by Dayanidhi Alagiri's Cloud Nine Movies is directed by debutant Ganesh Vinaayac.

The film stars Arulnithi of Mouna Guru fame, and Poorna (she was recently seen in Janal Oram) in the lead roles.

Thagararu revolves around the lives of four friends, Saravanan (Arulnithi), Pazhani (Sulile Kumar) Senthil (Pawan) and Aarumugam (Murugadoss), who live in the city of Madurai. They are orphans, who have been together since childhood.

Learning to fend for themselves, they fall into bad ways and grow up to be rough, violent, bad-tempered alcoholics, who have perfected the art of thievery.

They share a special bond, protecting and supporting each other, and have a special affection for Saravanan, the youngest of the lot.

Saravanan meets and falls in love with Meenakshi (Poorna), the daughter of a dangerous moneylender, Kanthuvatti Rajendran (Jayaprakash).

Though Meenakshi reciprocates his love, she is extremely possessive and resents the love he shares with his friends. His friends too, feel threatened by her and fear that she will separate them.

With each robbery, they become more and more arrogant, making numerous enemies and even antagonising a newly appointed inspector of police, who vows to catch them. Towards the end of the first half, Pazhani gets killed.
With a long list of people wanting them dead, they have absolutely no clue who is the killer. How they avenge the death of their friend forms the rest of the story.
Thagararu is an extremely fast-paced action thriller with several good performances.

The rapport that Arulnithi and his friends share seems completely natural, whether they are expressing their love for each other or contempt for others.

Poorna, however, is the surprise package in the film. There are several shades to her character and she effortlessly swings from charming and affectionate to egoistic and dangerous.

There are very few films with strong female roles and Thagararu has given Poorna the opportunity to prove her mettle and she does so admirably.

Mayilsamy, who appears briefly in the film, is fun, and the many villains too have played their part well.

With excellent music by Dharan, both the background score as well as the songs, some great action sequences choreographed by Dileep Subbarayan and sharp editing by T S Suresh, there is never a dull moment in director Ganesh Vinaayac's Thagararu.

But there is violence and even more violence, while they are forever chasing each other through the various streets of Madurai, waving their 'aruva' and threatening to slit the throats of all and sundry.

And when they are not trying to kill someone, they are drinking themselves senseless. It is funny how the temple city of Madurai always seems to inspire stories of violence.

Despite the over-the-top violence, the director does succeed in keeping the audience entertained.

The story moves along at a brisk pace with lots of comedy and well defined roles for all the characters.

The film also deals with a myriad of emotions, both positive and negative, and the unpredictable twist at the climax is an interesting touch.

Rediff Rating: