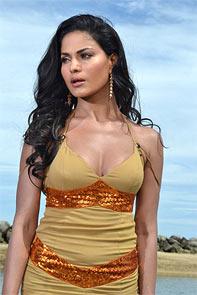 Nishi Tiwari feels Super Model is everything it shouldn't be -- dowdy, uninteresting, and clumsy.

Ever watched a movie that's so bad, even nitpicking seems to take a lot of effort?

If not, do watch Veena Malik and Ashmit Patel's Super Model, a film so awful on so many levels that it seems to be written by someone suffering from a multiple personality disorder. Super Model also suffers from common B-grade film afflictions like bad acting, weird camera angles and lack of logic among others, but I'd rather not go there.

Instead, here's a little peek into how Super Model goes from a bad remake to a patchy murder mystery in under two hours.

Phase 1: It starts off with Rupali (Veena Malik), an aspiring Bollywood actress who runs away to Mumbai to fulfill her dream. So far, it's quite like Madhur Bhandarkar's Fashion, but with really poor production values.

Meanwhile, Ashmit Patel (who famously hit it off with Malik in Bigg Boss 4) is a 'playboy' fashion photographer, Monty, who only talks in the third person.

The two meet -- in a scene that defies all logic -- for a calendar model hunt.

Why is Rupali here, when her dream is to make it big in Bollywood? Well, a random showbiz wannabe tells her the only way to get noticed in Bollywood is through modelling, if casting couch isn't your thing.

And yes, all struggling models smoke and aren't from 'sharif gharanas' because they sleep their way to success. All casting agents are sex maniacs who want to do it with every girl who approaches them for modelling assignments.

Phase 2: Monty takes off for Fiji with Rupali and four other models for a photoshoot.

"We are here for work but before that begins, let's PARTAY!" Monty commands. Said party soon finds itself in the resort's swimming pool.

At this point, the film turns into MTV's popular reality show, Splitsvilla, as a shirtless Ashmit frolics with the bikini-clad models.

Everyone talks in broken English -- a song playing during the shoot goes 'I wanna be be, be be… super moduhl.'

Phase 3: Without much preamble, a catfight between two models during the photoshoot is followed by a mysterious death. And the film becomes a murder mystery. Rupali starts acting suspiciously (Why? We'll never know!). Which makes Monty falls in love but she brutally spurns him.


A dream sequence song follows in which Monty weeps as he walks listlessly on a beach, while a nonchalant Rupali poses seductively in weird outfits.

Phase 4: The film's narrator - yes, there is one - earnestly warns viewers of the vice called modelling, lending the film a very crime-show-like vibe. Really, Jackie Shroff, is this what you've been reduced to?

But Jackie too disappears when Super Model enters murder mystery mode.

Some strange camera angles and inconsequential dialogues later, Supermodel culminates in a revelation that is perfectly in sync with the film's schizophrenic writing.

Rediff Rating: