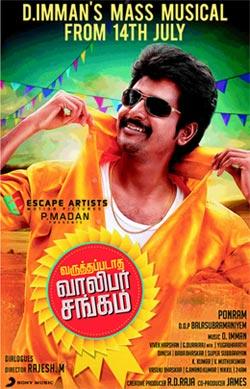 Varuthapadatha Valibar Sangam gets repetitive after a while, feels S Saraswathi.

Varuthapadatha Valibar Sangam, as the name suggests, is all about a bunch of carefree, good-for-nothing youngsters who are constantly at loggerheads with the older generation in their village.

They get their daily dose of entertainment by provoking them and getting into unnecessary trouble. All this leads to a series of comic situations that forms the basic plot of the film.

Touted to be a complete laugh riot, the film features Sivakarthikeyan and Sathyaraj in lead roles along with Parotta Soori and Telugu actress Sri Divya, who plays the female lead. Actor Bindu Madhavi makes a cameo in the film.

Varuthapadatha Valibar Sangam (VVS) is produced by P Madan of Escape Artists Motion Pictures and is directed by Pon Ram, a former associate of Rajesh who has penned the dialogues for the film.

The film opens with rumours that have the villagers convinced that their landlord -- the rich and powerful Sivanandi (Sathyaraj) -- has shot dead his daughter Lathapandi (Sri Divya) and her lover Bosepandi (Sivakarthikeyan) as they dared to elope against his wishes.

As the rumours spread, the police decide to investigate and question Sivanandi, who proudly confesses that he had indeed committed the crime. The police then arrest Sivanandi, who agrees to take them to the scene of crime. It is now that we are taken in a flashback to what actually occurred.

We are introduced to Bosepandi, the fun-loving leader of the Varuthapadatha Valibar Sangam and the secretary Kodi (Parotta Soori). Together they create a lot of trouble for the villagers who consider them to be pain in their neck.

Bosepandi is actually in love with Kalyani (Bindu Madhavi),
the local school teacher. And since she is also Lathapandi's class teacher, he forces her to deliver his love letters and gifts. Meanwhile
So does Bosepandi eventually fall in love with Lathapandi? What is the truth behind Sivanandi's claim that he killed them? Everything is unravelled in the rest of the story.
Television star-turned-actor Sivakarthikeyan seems to be on a roll these days. He has had two releases earlier this year,
Kedi Billa Killadi Ranga
and
Ethir Neechal
and both enjoyed huge success at the box office. His endearing presence makes it a delight to watch him on the screen, and his fans will definitely not be disappointed.
Though Sathyaraj essays the role of a stern father and a feared village headman, his character is portrayed with a good deal of humor to fit in with the general theme of the film.
Sri Divya with her girl-next-door looks has performed adequately. Bindhu Madhavi looks charming and her cameo adds an interesting touch to the film. But it is Soori who manages to steal the show with his great comic timing and sarcastic one liners.
Music by D Imman in
VVS
is fun and lively. Sivakarthikeyan has sung the title track of the film; a racy folk song that has become quite popular. The peppy,
Oodha Color Ribbon
has some amusing lyrics and is quite addictive.
Varuthapadatha Valibar Sangam
does not have much in terms of a storyline, and is definitely not the laugh riot they say it is. And while things start entertainingly enough, the rivalry soon loses its charm, and eventually becomes quite ordinary.
Though
VVS
is supposedly a club, we rarely get to see the other members and are forced to watch the same characters doing the same thing over and over again, which becomes boring and repetitive.
Rediff Rating: