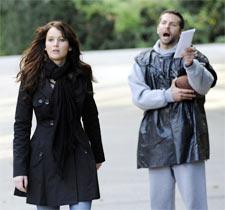 The merit of Silver Linings Playbook has got a lot to do with how much the director is personally invested in the film and his sense of what constitutes comedy, writes Nishi Tiwari.
One would wonder how funny a story about a train-wreck of a marriage, two clinically neurotic people fighting their inner demons and compulsive bookmaking can be.
One would wonder before watching David O Russell's delightful romance-comedy-drama Silver Linings Playbook.
Known for finding inspiration in the most absurd and unlikeliest of places for his edgy and sharp comedies, the Oscar-nominated filmmaker, who helmed the 2010 multiple Academy Award-nominated The Fighter, offers a delightful yet poignant story in his latest film, adapted from Matthew Quick's novel of the same name.
Silver Linings Playbook opens with Pat (Patrizio Solitano Jr played by Bradley Cooper) rehearsing his big speech in hopes of a reconciliation with his wife after spending eight months in a mental health facility, where he was being treated for bipolar disorder.
A former high school teacher, Pat was sent packing for court-mandated treatment following his violent outburst upon finding his wife in the shower with another man, as his wedding song -- Stevie Wonder's Cherie Amour -- played in the background.
Pat returns to live with his parents -- father Patrizio Solitano Sr (Robert de Niro), who's recently lost his job and is bookmaking to earn some quick money to open a restaurant and mother Dolores (Jacki Weaver), the only voice of reason in the household.
As Pat proceeds, trying to diligently piece his life back together, he's met with paranoid former acquaintances, colleagues, nosy neighbourhood kids and overtly sympathetic, worried friends.
The scene where he bumps into a former colleague strikes as tragic yet exceedingly funny as the woman almost has a heart attack when she spots him.
Over at his best friend Ronnie's house at dinner, he meets Ronnie's sister-in-law Tiffany (Jennifer Lawrence), a young widow and a recovering sex addict living in her parents' backyard.
The two strike up a rather odd friendship -- while both are battling personal loss and neurosis, Tiffany is more accepting of her failings and thinks Pat is the crazy one between the two.
Pat, on his part, is in denial of his condition and keeps Tiffany at arm's length until they strike up a deal -- she will deliver his letter to his estranged wife and he will take part in a dance competition with her.
The oddball characters, clearly written with a lot of heart and research, are the strongest features of the film.
What's even more laudable is the chemistry between Cooper and Lawrence, given the fact that the actress is 22 to Cooper's 37. Yet, she delivers with maturity well beyond her years. There's a studied poise in her demeanour that comes with age and experience.
Her Tiffany embraces her shortcomings and is worldly-wise. She doesn't make dramatic resolutions like Pat to get her life in order but she's got her head in the right place.
David O Russell zeroed in on Bradley Cooper for the lead role, after watching his impressive turn in Wedding Crashers, and is well-cast. When things aren't going Pat's way, his facial muscles tense and his hands twitch, making you fear for him or the people around him. You cringe and will him to not do anything stupid.
While both Jacki Weaver and De Niro impress in their roles, the script provides their performances little scope to best their previous work.
Anupam Kher's Dr Patel, the court-mandated therapist for Pat, is a mild-mannered Indian, who is a fan of Philadelphia Eagles and speaks in an accent that Americans think is Indian. It's a brief role that didn't necessarily require a seasoned actor like Kher but he makes the most of the opportunity.
David O Russell, who's had his real life struggle with his son Mathew's bipolar disorder, was reportedly keen on making the film. And when the opportunity presented itself, he cast Mathew in the blink-and-you-miss role of Pat's nosy teenage neighbour intent on interviewing him for a project on mental illness.
In the end, this film's merit has got a lot to do with how much the director is personally invested in the film and his sense of what constitutes comedy.
Rediff Rating: