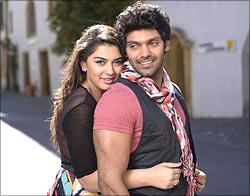 S Saraswathi says Settai is sadly, a great disappointment.

UTV Motion Pictures, one of the biggest production houses in the film industry today, presents Settai, a remake of the Hindi film Delhi Belly.

The original Delhi Belly was deemed a sex comedy for its many risqué jokes and double entendres. Settai has retained the film's original theme, but according to the makers, the screenplay was modified to suit the Tamil audience. Unfortunately, in the process, all the fun and laughter has been taken out of the film and what we are left with is a poor reproduction of a great original.

The film is directed by R Kannan of Jeyam Kondaan and Kandein Kadhalai fame and produced by Ronnie Screwvala and Siddharth Roy Kapur. Settai has music by S S Thaman and cinematography by P G Muthaiah.

The director has chosen Arya, Santhanam and Premgi Amaren to play the much appreciated cast of Delhi Belly's, Imran Khan, Kunaal Roy Kapur, and Vir Das. Nassar plays the lead antagonist and the female leads are played by Anjali and Hansika Motwani.

The film is set in Mumbai, where Arya, Santhanam and Premgi work for an upcoming Tamil daily. Arya plays a very enthusiastic journalist called JK who is determined to make it big by reporting genuine and socially relevant stories.

Santhanam plays a gossip columnist and photographer Nadupakka Nakki, who enjoys writing fake stories just so he can rhyme all his lines. Premgi plays Cheenu, the newspaper cartoonist.

Shakti (Anjali) works for an English daily, and through her work, often comes in contact with JK. JK is engaged to airhostess Madhu played by Hansika Motwani.

The entire plot revolves around an unfortunate mix-up by JK and his friends. A package of stolen diamonds gets mixed up with another carrying a stool sample.
The goons who are waiting for the diamonds receive the stool sample instead, and thus begins the chase between them and the three friends.
The director has ruined a perfectly good script and has given an absolutely boring version of the exciting and racy Delhi Belly. From beginning to end, the film follows the same pace and all the scenes are so boring and slow, you could actually sleep through the entire movie.
Anjali, who is better known for deglamorised performances in films such as Angadi Theru and Engeyum Eppodhum, has been given a brand new avatar for this film. Her clothes, hair and makeup have all been changed to suit her character-- that of a very confident and attractive Mumbai-based journalist.
Hansika Motwani, heartthrob of many youngsters in the state, once again plays an airhostess in Settai. She had previously played the same character in Oru Kal Oru Kannadi, which was a super hit. Both Anjali and Hansika add glamour to the film and have managed to give decent performances.
After the huge success of Boss Engira Baskaran, in which the Arya-Santhanam combination became the talk of the town, the two come together again for Settai. Unfortunately, they are unable to recreate the same magic.
Even Premgi fails to evoke any laughter. Though none of them are new to the concept of comedy or friendship, all three disappoint with their lacklustre performances.
The music by S S Thaman has definitely created waves since it was first released a couple of months ago; especially the A
galathey Agaalathey
number, which is rocking the charts.
Director Kannan had earlier remade
Jab We Met
as
Kandein Kadhalai
and it was a huge success. But this time, the director has been unable to recreate even a tenth of the entertainment of
Delhi Belly.
Settai is, sadly, a great disappointment.
Rediff Rating: