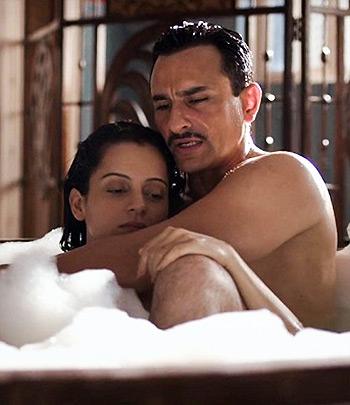 Rangoon is too fuzzy and half-hearted, feels Sukanya Verma.
'Aurat' he scoffs at her apparent naiveté.
'Aurat,' she reminds him, seconds after demonstrating her fruit ninja moves, like a woman who'll make him regret what he said.
Except, 'tukka,' he mumbles like a bad loser.
She's no fluke, of course.
Jaanbaaz Julia is a shining stunt queen whose action-packed antics, modeled on the unrivaled Fearless Nadia, is the toast of Bombay's blossoming film industry in the 1940s.
The above scene from Rangoon is a lovely vignette affirming Vishal Bhardwaj's gift to build characters through fluid synergy instead of designed camaraderie. The free will and flexibility the director assigns them in charting the course of his story, even when adapting another's, is what makes his filmmaking cutting-edge and dangerous.
Sadly, it's only an occasional glimpse into his sparkling craft in a film that's much too fuzzy and half-hearted to invest in at any juncture.
In Rangoon, Bhardwaj abandons his hallmark whimsicality and relevant effrontery for big scale chaos and bloated showmanship. His romanticized if meticulous take on history of the country and its cinema would feel a lot less inadequate if it could actually decide what it has on its mind.
The year is 1943.
Between its aspirations to be an epic love triangle, a forbidden romance in the time of war, a meet of brat and brave, a complicated tale of dependency between a manipulative mentor and maudlin muse and Bose's Indian National Army's efforts to collaborate with the Japanese and liberate India from British Raj following the 'enemy's enemy is friend' policy, Rangoon is a hotchpotch of conflicts that don't mix well.
It's not just the tonal shift.
That its scenarios are filled with jaded tropes and derivative imagery add to the fatigue of enduring them in this nearly three-hour slog. In one, Julia dances before three Japanese soldiers just like Ann Darrow did for a certain ape of Skull Island under a filmmaker whose understanding of Tolkien reminds me of VB's for Shakespeare.
The world is still a stage and busy parodying Hitler or displaying Julia's talent as a live performer for the gratification of its audience in military uniforms. Off it, there's a Ghalib-quoting British army chief (Richard McCabe) whose insistence to speak in singsong Hindi made me miss Bob Cristo.
Rangoon has a wonderful line-up of actors but their interplay is devoid of passion or power play.
Shahid Kapoor's steady, simmering portrayal of a man on a mission is at odds with his overwhelming desire for Julia. His restraint is solid but a tad too guarded to evolve into someone striking.
Kangana Ranaut is a captivating actress but Julia fluctuates between spunk and soppy. Too often her identity is pinned to the men in her life when she's already achieved so much on her own. When she does exemplify the Nike logo shaped scar on her back -- just do it -- it appears prodded not spontaneous.
There's Saif Ali Khan as the sophisticated studio baron flattering the British for raw stock and exploiting Julia in exchange of conditional, conservative love -- most intriguing yet most problematic. Also, please refrain from using 'kiddo' if you're not Bogie.
As in the case of Vidhu Vinod Chopra's 1942: A Love Story, the well heeled do not consider freedom fight their concern till they know better. Unlike 1942 though, the ideology of Rangoon isn't rooted in Gandhi's pacifist methods but driven by Bose's active aggression.
Bhardwaj's exquisite rendering of the Azad Hind Fauj version of Jana Gana Mana, which can also be heard in the charged opening credits of Ashok Kumar's Samadhi, makes a stirring case for this hasty transformation.
Still, nothing sublime about the over-the-top spectacle and phony martyrdom he puts together in its climatic moments and strips Rangoon of whatever dignity its heroes and heroines are striving for.
It's depressing when a man known for creating his own language of cinema speaks street.
Rediff Rating: