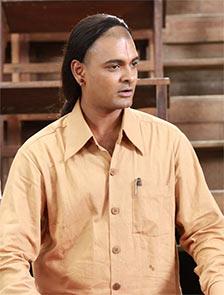 Director Gnana Rajasekaran's Ramanujan is a well researched, well-written and brilliantly directed film dedicated to India's mathematical prodigy, Ramanujan, whose genius hung like an albatross around his neck, his entire life, says S. Saraswathi.
Yet another masterpiece by the man who gave us films like Bharati and Periyar. Gnana Rajasekaran is back with his third historical biopic, Ramanujan, after seven long years and the film is well worth the wait.
This time his vision brings to life one of India's greatest mathematical geniuses, Srinivasa Ramanujan.
Ramanujan was born in 1887, and the film is set in the early 1900s chronicling his life from the time he was a young boy at school in Kumbakonam, his brief stint in college, his marriage, the redeeming years spent at the Cambridge University, London and finally his unfortunate death in 1920 at the young age of 32.
The film is a bilingual simultaneously shot in Tamil and English with a cast that includes both South Indian as well as British actors. Abhinay Vaddi, the grandson of veteran Tamil film actors Gemini Ganesan and Savitri, is the main protagonist, Ramanujan.
Suhasini Maniratinam has donned the role of Komalatammal, Ramanujan's mother, who is a powerful influence in his life. The acclaimed actress, has given an excellent performance both as loving supportive mother, who has her son's best interest at heart, but with shades of grey; a strong-willed woman determined to get her own way.
The Malayalam actor, Bhama, acts as Ramanujan's young wife, Janaki. UK-based renowned stage and screen actor, Kevin McGowan, plays Ramanujan's mentor and collaborator, Prof. GH Hardy, while Michael Lieber is Littlewood.
The film opens with a young Ramanujan eagerly questioning his teachers at school regarding complex mathematical concepts, which they unfortunately have no answer to. They are perplexed and intimidated by his knowledge and understanding of the subject.
His brilliance in school earns him a scholarship to college only to be later revoked due to his obsession with Math. He is rebuked by his principal, who tells him that it is better to be average in all the subjects rather be a genius in one. This is the mentality of not only the Indian academia, but also the society at large, as well as his family.
Ironically it is only many years later at Cambridge that he eventually not only earns a degree, but is also elected Fellow of Trinity College, Cambridge and Fellow of The Royal Society, London.
Closer home, however, he is married off by his mother, who believes that this will distract him from the world of numbers. The first half ends with his work finally being recognized, but not in India. Prof Hardy of Cambridge offers him a place at the University, which he eventually accepts.
His phenomenal success at Cambridge marred by a sickness that is worsened by the weather and lack of nutritious food, his return to India and eventually his death a year later is deftly dealt with in the second half.
The film is almost three hours long, and the pace unhurried, but the narration moves along briskly keeping you involved and engrossed every minute.
While Abhinay may be the essence, every character in the film has an important role to play and they do so admirably. Abhinay, however, stands out, he is the perfect Ramanujan; an effortless natural performance that is truly commendable.
The sweet romance between the young Bhama and the eccentric Ramanujan deserves a special mention.
Gnana Rajasekaran, the National Award winning master craftsman, is at his best, extracting the same from his technicians. The film has sensational music by Ramesh Vinayakam with a lovely blend of Indo-Western classical, while cameraman Sunny Joseph brings to the fore, not only charm of the locations, but zooming in with deliberate leisure to capture every raw emotion of the characters.
Ramanujanis a brilliant film, a must watch.
Rediff Rating: