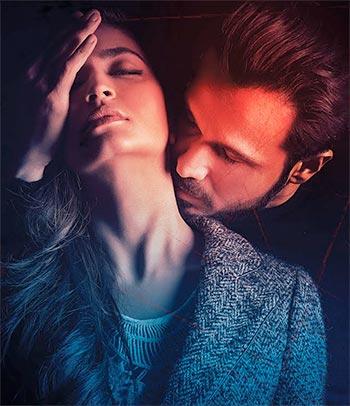 Unless you love watching horror movies that make you laugh, stay away from this one, warns Namrata Thakker.
Filmmaker Vikram Bhatt can easily be called the torchbearer of the horror genre in Bollywood.
But the problem is, he still hasn't mastered the art of scaring people.
His first film in the Raaz franchise, starring Bipasha Basu and Dino Morea, gave us some really good chills and is probably his best horror till date.
The following two films -- Raaz: The Mystery Continues and Raaz 3D -- were decent enough, and now, the fourth installment is out. Sadly, it's nothing but a remix of the previous films.
Raaz Reboot, starring newbie Kriti Kharbanda, Gaurav Arora and Emraan Hashmi, is not only predictable but hardly spooky.
From creaky doors and windows opening themselves to blood flowing out of objects and finding someone under a bed, Vikram Bhatt has used all the done-to-death scare tricks in this one.
Apart from a twist, which is also quite predictable, Raaz Reboot has nothing new to offer.
The film is about a couple, Shaina (Kriti) and Rehan (Gaurav), who move to Romania after the latter gets a better job offer.
Incidentally, the couple first met and fell in love in Romania.
However, when they go back to Romania this time, things aren't great. Gaurav starts behaving differently and maintains a distance from Shaina.
Though she tries to talk to Gaurav about it, her efforts go in vain.
On the other hand, Shaina starts experiencing strange things in the house. She soon realises that the house is haunted.
Since Gaurav is indifferent to her, Shaina turns to her ex-boyfriend Aditya (Emraan Hashmi).
Interestingly, Vikram's 1920 London had almost the same plot, wherein the ex-boyfriend comes to rescue the damsel in distress.
Raaz Reboot is full cliches and will remind of you of a few horror movies in both Bollywood and Hollywood.
Kriti Kharbanda, who makes her Bollywood debut with this film, is strictly okay. Since most of the film is riding on her, it's sad that she doesn't take advantage of it and gives a not-so-great performance.
Gaurav Arora is surprisingly good but his character doesn't have much to do.
Emraan Hashmi arrives just before the interval and though he has quite a few good scenes, it's not enough to make up for the loopholes.
Though the Bhatt movies have always had melodious music, this one doesn't match up. Most of the songs aren't needed but are still there, making the viewing experience worse.
Also, the spirit for some reason keeps using the F-word, which gets quite annoying.
The power of the mangalsutra makes its entry here, like it has done in many of Bhatt's films before.
The CGI effects and the background score doesn't help either.
In a nutshell, Raaz Reboot has the same old stuff that we have seen a zillions times. So unless you love watching horror films that make you laugh, stay away from this one!
Rediff Rating: