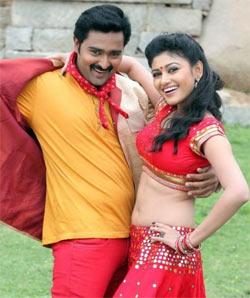 Pulivaal is an unimaginative tale of two strangers brought together by fate in a ridiculous cat and mouse game, which ends up ruining the life of an innocent, writes S Saraswathi.

Pulivaal, directed by G Marimuthu of Kannum Kannum fame, is the remake of the 2011 Malayalam film Chaappa Kurishu. The film is jointly produced by Magic Frames, headed by Raadhika Sarath Kumar and Listin Stephen.

This is their second venture together after Chennaiyil Oru Naal, another Malayalam remake that was a huge hit last year.
Pulivaal features Vemal and Prasanna in the lead roles supported by Iniya, Oviya, Ananya, Thambi Ramaiah and Soori.
The film has music by N R Raghunandhan, editing is by Kishore T E and cinematography by Bhojan K Dinesh.

The film revolves around the lives of two youngsters belonging to two completely different strata of society. One the ultra rich and successful software professional, Karthik (Prasanna) and the other a supermarket employee, Kasi (Vemal), who struggles to make ends meet.

The opening scene of the film aptly brings out the disparities in their lifestyle - Karthik in his luxurious modern apartment, with his high-tech gadgets and expensive suits, travelling to his office in a chauffeur-driven executive car, and Kasi in his one-room flat, waiting in line with a bucket of water outside the common bathroom.

Karthik, who is engaged to be married, is totally indifferent to his fiancé Pavithra (Iniya), an alliance fixed by his parents, preferring instead to flirt with other girls.

This charming womaniser manages to lure an employee in his office, Monica (Oviya), to his home. He seduces her and captures the entire episode on his mobile.

The very next day a stunned Monica hears of his engagement. She meets him in a coffee shop and tries to get him to break off his engagement, but he threatens her with the compromising video.

In the ensuing confusion, Karthik drops his mobile, which is found by Kasi, who decides to pocket it.

The rest of the film is a cat and mouse game between the two, with Karthik desperately trying to catch Kasi, who has the upper hand. Though Kasi now has the proverbial 'tiger by the tail' (pulivaal), he is totally unaware of the damaging video clip.

Initially, the film does manage to engage the audience, but the director's very obvious reluctance to make either one of his heroes a villain makes their every encounter childish and immature.

In fact, both the story and the characters literally seem to go around in endless circles with absolutely no idea how to proceed. In the end, a third character is made the scapegoat and the film ends on a happy note, keeping intact the virtuous image of both the heroes.
Prasanna is perfectly cast and is quite impressive, but Vemal is not very convincing. Oviya, Iniya and Ananya (Vemal's love interest) make token appearances, while Thambi Ramaiah and Soori provide some laughs.
Despite the interesting concept, there is nothing in director G Marimuthu's Pulivaal to hold the attention of viewers. As a thriller, the film totally fails to deliver.

There is no excitement, no edge-of-the-seat moments, no anticipation, and his attempts to bring to light the disastrous consequences of our mistakes and indiscretions falls completely flat. Rediff Rating: