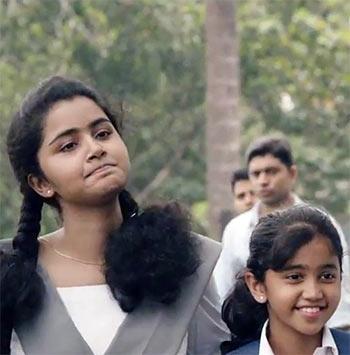 With Premam, director Alphonse Putheran proves that he has the knack of presenting themes that have blockbuster written all over, writes Paresh C Palicha.
Love has many hues and director Alphonse Puthren tries to explore many hues of love in his new film Premam, starring Nivin Pauly.
It follows matters of the heart of a young fellow named George David from his adolescence to his late 20s.
During this period, his heart is tormented by three beauties and the film is about how he unexpectedly finds an anchor of his life in an odd choice as his life partner.
It is to the credit of the director that he has made a film of more than two and half hours without the viewer feeling distracted or bored even for a single minute. The treatment of this serious subject is laden with humour and he shows that even the most depressing of situations can be overcome if we take them lightly.
George's first object of affection is Mary (Anupama Parameshwaran), a school beauty, who is chased by half the boys in the town. They make rounds of her house on their bicycles and follow her around in an effort to win her attention. The only problem is that she has a demon of a father and anyone caught by him is beaten black and blue.
Our hero wins the confidence of her father by pretending to be her classmate and calls her to clear his doubts. This victory of sorts is short lived as she comes with an odd request that would make any lover feel down in the dumps, yet he cannot say no to her.
Now, we jump a few years and find him in college, where he and his gang of chums have become rugged looking rowdies with full grown beards (George shaved for the first time in his life while following Mary).
They smoke, drink, create ruckus and rag their juniors; in short they do everything except study.. Things change when Malar (Sai Pallavi) appears on the scene, a guest lecturer who has come down from Kodai.
Obviously, George is smitten by this ethereal beauty at first sight. Surprisingly, his feelings are reciprocated. The humour here is provided by Vinay Forrt who appears as a fellow teacher of Malar and vies for her attention. This affair also ends in a serious tragedy for George.
Then we meet him again in 2014, when he has become the owner of an upmarket café specialising in exotic pastries and cakes targeting the foreign tourists of Fort Kochi. Here drops another angel Celine (Madonna Sebastian). She too is a blast from his past. But revealing much about her would spoil the fun.
The spine of this endeavour is in the writing; the dialogues have a kind of spunk that virtually makes every line a punch line. The ensemble cast delivers the lines as casually as possible. Broadly speaking, the subject has some semblance to the Cheran directed Tamil film Autograph (2004). But, the treatment makes all the difference.
Nivin's luck at the box office continues and he shows that he can handle bigger themes. Another person that stands out in this enterprise is Sai Pallavi who adds charm to the super confident character of Malar.
With Premam, Alphonse Putheran proves that he has the knack of presenting themes that have blockbuster written all over.
Rediff Rating: