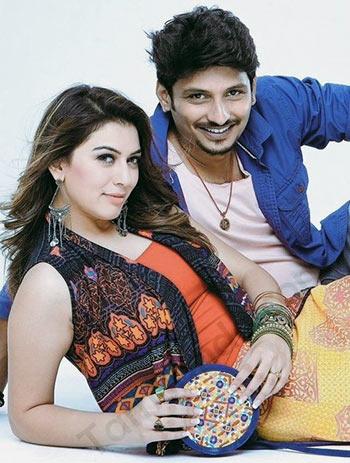 Pokkiri Raja is a silly meaningless action comedy, says S Saraswathi.
Jiiva's last film Yaan in 2014 was a disaster and the actor was expected to redeem himself with Pokkiri Raja, a film that was promoted as being a laugh riot. But the joke seems to be on the director, his ridiculous script and clumsy execution.
Director Ramprakash Rayappa had previously made the exciting thriller Tamizhuku En Ondrai Azhuthavum, which had a decent run at the box office. Comedy, however, does not seem to be his strong point.
The narrative, with no thought to reason, shifts from the protagonist suffering from excessive yawning, to learning how to control the power of the wind and sending bad guys flying off to space with just a deep breath.
Sanjeevi (Jiiva) is an IT professional, who cannot hold on to his job. His excessive yawning is contagious putting everybody around him to sleep.
He joins a new company filled with weirdos, a boss played by actor/director Manobala and colleagues Mojo (the hilarious Yogi Babu) and Sunita (Hansika Motwani). Sunita and her friends go around the city in a water tanker hosing down people, who urinate in public.
The one time Sanjeevi decides to join them, he comes face-to-face with his nemesis, 'Cooling glass' Guna (Sibiraj), a feared local rowdy. Thanks to the antics of Sunita and Sanjeevi, Guna finds himself in the front page of a magazine, fully drenched, in his underpants. He is furious and wants revenge.
But how does he approach someone, who can destroy him with just a breath. The script seems more suited to cartoon characters; it is quite a sight to see Jiiva huff and puff his way out of every difficult situation.
The director also treats us to a tedious flashback taking us back to the British Raj, when an ancestor of Sanjeevi had mastered the art of controlling the wind, perhaps in the hope of lending credibility to this absurd notion.
Yogi Babu and Ramdoss, who plays Guna's sidekick, provide some laughs with their effortless comic timing, but it is Sibiraj, who surprised everyone with his near-perfect imitation of his father, veteran actor Sathyaraj. He effortlessly copies his father's sarcastic bad guy laced with humour routine, but lacks the underlying menace that gave an edge to the hugely talented Sathyaraj.
Poor Jiiva learnt the hard way that it is impossible to yawn on command, while Hansika with her terrible lip-sync skills gives yet another forgettable performance.
At two hours and 15 minutes, with no help from the technical department or the lead actors, Pokkiri Raja is a silly and meaningless waste of time.
Rediff Rating: