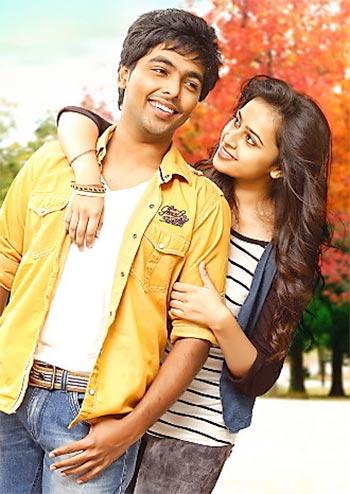 Pencil is an engaging thriller with an interesting plot and good performances, feels S Saraswathi.
Music composer GV Prakash is slowly but steadily trying to prove himself as an actor.
Director Mani Nagaraj's Pencil is his third venture after the successful horror comedy Darling and Trisha Illana Nayanthara.
Incidentally, Pencil was to be his debut film it was delayed due to financial reasons.
The film is an interesting crime thriller set against the backdrop of a school campus. GV Prakash, Sri Divya and newcomer Shariq Hassan (son of Riyaz Khan) play Class 12 students.
The film starts on an exciting note with a masked individual brutally killing a school student in an empty classroom using the humble pencil.
The narrative rewinds back a couple of months, and we are introduced to arch rivals Shiva (GV), a bright hardworking student and Nitin (Shariq), the arrogant son of a celebrated film star.
Nitin whiles away his time seducing innocent girls, pretending to be in love, while secretly filming them. He even antagonizes his teachers.
Nitin and Shiva hate each other. Even as we reach the end of the gripping first half, Nitin manages to collect a long list of enemies in his school comprising of both students and staff, who wish him dead.
The director cleverly weaves in the suspense, as more and more characters are caught in the dangerous web of Nitin's manipulations.
The film moves to the present and Shiva finds himself the prime suspect due to his frequent altercations with Nithin.
The second half is taken over by Sri Divya, who plays Maya, Shiva's love interest and a hardcore crime novel reader.
The film loses some of its intensity as the amateur detectives try to unmask the real killer.
Despite the gravity of the situation, the director, surprisingly adds a funny twist to the narrative in the second half, which though jarring at first, will soon have you smiling.
T P Gajendran, as the school principal, is simply hilarious as he tries to keep it together when all hell breaks loose on the very day the school is scheduled for an ISO inspection.
GV Prakash, Sri Divya and Shariq are perfectly cast as school students and give a realistic performance.
Except for the songs, the entire film has been shot in the school and debutant director Mani Nagaraj deserves credit for keeping the narrative brisk and entertaining.
But all the lurking, sleuthing and chasing by the so called detectives is hard to digest.
Music is composed by GV himself and both the songs and background score are enjoyable.
At two hours 16 minutes, Pencil is an engaging thriller with an interesting plot and good performances. Definitely worth a watch.
Rediff Rating: