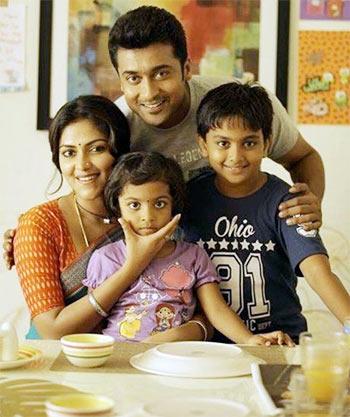 Director Pandiraj's Pasanga 2 is fun-filled, emotional film about children reeling under the burden of their parents's dreams and aspirations, says S Saraswathi.
Pasanga 2 is National Award-winning director Pandiraj's third film in the children's series.
While the first, Pasanga, dealt with children from a middle-class background against a rural backdrop, the second, Marina, revolved around young children who are forced to work to survive.
This time around, the director explores the lives of children from upper class families in an urban setting reeling under the tremendous burden of their parents's dreams and aspirations. IITs and IIMs are not their only goal; excellence in sports, music and dance also tops the priority list.
The film reveals how children not only lose the best years of their life but also their identity, becoming clones in this mad race to be the first.
The director ridicules everything from registering your child at school while still pregnant, to making children perform in front of every guest who comes home, to condemning them for having come third in a competition.
Pandiraj has neatly packaged all these concerns by addressing a condition called Attention Deficit Hyperactivity Disorder, a condition that is becoming increasingly common among young children today.
Three well-to-do urban families are the focus of the story.
There's bank manager Ramdoss, his wife Vidya Pradeep and their dance-crazy son, Kavin.
Engineer Karthik Kumar and his wife Bindu Madhavi have a daughter, Nayana, who's in the second grader and has a vivid imagination.
Suriya and Amala Paul are the ideal couple with a perfect son and daughter.
Kavin and Nayana are terrors, both in school and at home. They are regularly given transfer certificates from the schools they are in and thrown out of their apartment. The frustrated parents bring out their ultimate weapon -- the school hostel, where they hope the children will learn to control themselves. But they turn out to be too smart for their parents.
How they learn that it is unconditional love and not punishment that eventually triumphs forms the rest of the story.
Suriya and Amala Paul play more than a cameo in the film. Suriya is a child psychiatrist and Amala, a patient and understanding teacher. Suriya seems in his comfort zone and has a great time with the children. Amala looks gorgeous in her simple sarees and is equally impressive.
Like his previous two films, Pasanga 2 has its fair share of fun, laughter and emotions, along with valuable lessons to be learnt and understood. There, however, does seem to be a tendency to overstate and dramatise the obvious.
Nevertheless, there are several innocently uttered dialogues from the mouth of little children that hit you hard and leave you feeling guilty.
This is Suriya's second production after the successful 36 Vayadhinile and he definitely has another winner in his hands.
Director Pandiraj's Pasanga 2 is not be missed.
Rediff Rating: