The love story in Oru Indian Pranayakatha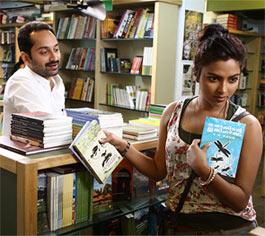 never attains the intensity that is expected for a romance to blossom, writes Paresh C Palicha.

Fahadh Faasil was successful in his second innings in Malayalam cinema a few years ago by portraying characters that had shades of grey. He soon became a 'new gen' icon of sorts.

The question that lingered though was: can he play the normal hero, who can handle a bit of comedy, some emotion, be romantic and star in a film by a mainstream director?
In Oru Indian Pranayakatha (An Indian Love Story), directed by Sathyan Anthikkad, he does all this, as if to prove a point.

Scripted by Dr Iqbal Kuttippuram., Fahadh plays budding politician Aymanam Sidharthan who has big dreams for himself. He is the typical Anthikkad lower middle class hero whose family has pinned their hopes on him.

He discontinues his law studies and has an ageing mentor played by Innocent. His life changes when a young female enters his life.

Irene Gardener (Amala Paul), a Malayalee brought up in Canada yet more in touch with her roots than Sidharthan, has come to India to make a documentary film on orphanages. Sidharthan ends up being her assistant on the project.

The love story of the title never reaches boiling point or attains the intensity that is expected for a romance to blossom. It is as if the couple has walked into each others lives because all other options have been exhausted.

Fahadh Faasil tries very hard to be natural in the comic scenes. But he comes through as a caricature of the politician wishing to make a mark for himself.

Amala Paul on the other hand gets a more vividly written role. She has a subdued presence.

There are no supporting characters other than Innocent that hold our attention.

In the final analysis, there is not much love or pranayam in Oru Indian Pranayakatha.

Rediff Rating: