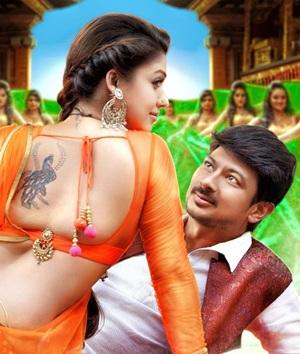 Tamil film Nannbenda is run-of-the-mill, says S Saraswathi.

There is nothing new in Udhayanidhi Stalin starrer Nannbenda.

The characters are familiar and the plot is a rehash of his previous romantic comedies, Oru Kal Oru Kannadi and Idhu Kathirvelan Kadhal.

Debutant director Jagadish seems quite content to follow the same template as his mentor, director Rajesh of Boss Engira Baskaran fame.
It was perhaps the success of Idhu Kathirvelan Kadhal that prompted Udhayanidhi to team up with Nayanthara and Santhanam for the second time.

The film is produced by Udhayanidhi himself under the banner Red Giant Movies.
Sathya (Udhayanidhi Stalin) is an unemployed, fun loving, good-for-nothing young man, who lives with his parents in Thanjavur. A fight with his father lands him at Tiruchi at the doorstep of his childhood buddy, Sivakozhundhu (Santhanam).
Siva is the Operations Head at a star hotel that has fallen to bad times.

Wary of his friend constantly borrowing money from him, Siva gets him a job as his assistant at the hotel.

Sathya's mother, however, believes that good things will happen to her son, when he meets the girl of his dreams.
Her predictions come true, when Sathya meets the gorgeous Ramya (Nayanthara), an assistant bank manager.

With her help, he gets a loan to renovate the hotel. Soon the hotel is buzzing with activity.

Life is good until Ramya adds a twist to the tale with her ridiculous flashback. There is a misunderstanding, things fall apart and Sathya and Siva find themselves in jail.
No matter what the situation, the director has preferred to keep the narrative light and funny.

Even the subplots are designed to add to comic elements in the film.

There is the silly rivalry between two local dadas Scorpio Shankar (Rajendran), who adores his Scorpio car and Baby Kumar (Raja Simman).
Karunakaran, who is currently being seen in a spate of films, essays the role of the third friend. He is bullied by both Sathya and Siva since childhood and he vows to take revenge on them.

But the director's determination to keep every situation as funny as possible makes the narrative too linear and monotonous.
The three lead actors, however, share an easy camaraderie and the film does have its share of laughs.

Nayanthara looks lovely and delivers a good performance.

The songs are well picturised and Udhayanidhi has improved his dancing skills.

But the romance between them is run-of-the-mill.

Santhanam's performance does seem relatively less exuberant. His role as a teetotaler with a decent well paying job does come as a surprise.
Music by Harris Jayaraj is enjoyable, especially the Oorellaam Unnai Kandu number sung by Unnikrishnan and Bombay Jayashri.
Debutant director Jagadish's Nannbenda is yet another run-of-the-mill romantic comedy with a few decent laughs.

Rediff Rating: