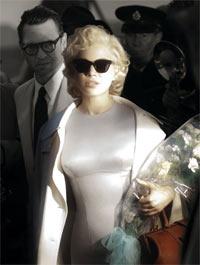 There's nothing about Marilyn Monroe in My Week With Marilyn that we don't already know. But Michelle Williams makes it a fascinating watch, writes Nishi Tiwari.

I remember being intrigued when I first heard that Michelle Williams had been chosen to play Marilyn Monroe in Simon Curtis's My Week With Marilyn. I just couldn't fathom how Williams, a skinny girl who had mostly acted in dramatic indie films, had been deemed fit to play the greatest sex symbol of all time on screen.
A year has passed since then. My Week with Marilyn went on to become one of the most acclaimed films of the year and Williams earned a Best Actress nomination at the Golden Globes, BAFTA as well as at the Academy awards. It's a long shot (Meryl Streep has won at the Globes and BAFTA and is billed as the strongest contender at the Oscars, too, for her role in The Iron Lady), but as they say, just getting a nomination is an honour in itself.
So, I stand corrected. Michelle Williams managed to get in the skin of her character spectacularly with Marilyn Monroe-like platinum blonde curly hair, red lipstick and with a little help from body pads. But what truly strikes while watching her on screen is the flair and ease with which she emulates Monroe.
The film opens with Marilyn (Williams) dancing to a song on the big screen as the audience (mostly men) in the cinema hall beams every time she blows a kiss. Williams, dressed in a sparkly gown with a high slit right in the middle of it, looks unusually voluptuous even by Monroe's standards. The scene then cuts to hurriedly introduce us to Colin Clark (more on him later) before Monroe remerges on the screen.
From then on, you somehow forget about her curves. All that registers is William's striking face nailing every expression, look and nuance of the character.
My Week with Marilyn is a biographical film based on British filmmaker and writer Colin Clark's two books that chronicle the shooting of Monroe's 1957 film The Prince and the Showgirl. Monroe arrives in London with her then new husband, famous American playwright Arthur Miller to shoot for the film. It stars Monroe and noted British theatre actor Lawrence Olivier (Kenneth Branagh) and Colin Clark (Eddie Redmayne), who is determined to make a career in films, and talks his way into getting a job as the director's third assistant.
What follows is the film crew's tumultuous attempt (owing entirely to Monroe's erratic behaviour and 'method acting') to complete the film. While other team members look on from the sidelines -- they are in awe of Monroe's persona and can't decide what to make of her behaviour and insecurities -- 23-year-old Clark takes it upon himself to free the troubled star from her demons, despite Olivier's warning: "She doesn't need rescuing," he says.
We see Clark take Monroe out to see the English countryside for a week while Miller is away in New York and the crew's on a break from shooting. Eddie Redmayne plays the part adequately. Like all men, Clark is awestruck by Monroe's persona but what sets him apart (for Monroe) is that he's also drawn to her vulnerability.
Kenneth Branagh's portrayal of an aging thespian who's trying to hold on to his youth and unsuccessfully trying to seduce his leading lady, is spot on. As Monroe's elderly co-star and director, he conveys his frustration and disappointment well, the proverbial stiff upper lip in place. Judi Dench, in a brief role as the legendary actress Sybil Thorndike, is impressive too.
Williams makes the diva come alive with rare precision and although we have read everything there is to know about Monroe, watching Williams break down when she can't get her dialogues right, pose suggestively at a press conference and cling on to her husband's hand anxiously while watching rough cuts of the film, is surreal.
There's one glitch that needs to be addressed, though. The nature of the memoir, and hence the script, makes Monroe's character one-dimensional. We see the little-girl-lost superstar act unfold bit by bit but we do not so much as get a glimpse of the strong, determined, aspiring actress who rose from nothing and reached unprecedented heights.
In the end, though, the only talking point of the film is Marilyn Monroe, not because the other actors, the script, the background score are bad, but because, as Olivier remarks while watching a rough cut of the film, "You forget everything else when she gets it right."
Rediff Rating: