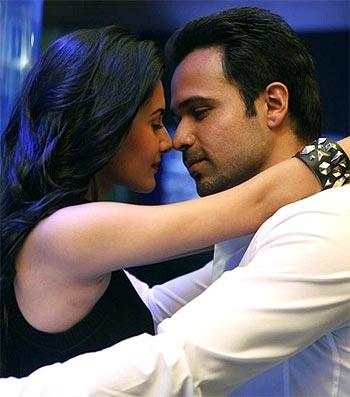 Glaring bloopers, cheesy writing and not even a smidgen of sense contribute to the hopeless mess that is Mr X, says Sukanya Verma.
You know a movie has unlocked a new level of stupidity when a chemist on the screen blurts out, "Abhi tak iska test kisi choohe pe bhi nahi kiya gaya hai!"
She is referring to a test tube filled with blue, anti-radiation fluid, which a bunch of lab rats were lucky to escape but Emraan Hashmi voluntarily consumes to combat his baldness-triggering burns.
A minute of Hollow Man-like effects later, Hashmi is bestowed with the gift of selective invisibility.

This is a miracle, cries the chemist and educates us, the half-witted audience, how this unseen hero Mr X is visible in day and neon light but a transparent apparition in the dark.
Except her whipped-up-in two-second-theory is completely bogus, considering the ichchadhari Mr X hides or shows up as he pleases.
Ditto for his beard.

A clean-shaven departs on an anti-terrorist squad mission and grows a two-week old conspicuous stubble in a matter of seconds.

Also this anti-terrorist department he and co-stars Arunoday Singh and Amyra Dastur work for is so embarrassingly phony, a school play projects more authenticity.
And if Mumbai in Mr X seems too slick and traffic-free to be true, it's because that's South Africa.
Glaring bloopers, cheesy writing and not even a smidgen of sense contribute to the hopeless mess, another classic case of 'could-have-been potential in right hands.'
For starters, Mr X has a lively theme, an enduring fantasy -- the invisible superhero.

Shekhar Kapur's Mr India used it both as a witty gimmick and a clever catalyst to fashion a wholesome good versus evil treat.

Only director Vikram Bhatt and his trifling script, co-written by Shagufta Rafique reads more like drifting scribbling of a man writing in between constant naps.
Lazy, lifeless yet forcibly shoving 3D (decent in spurts, largely nonexistent) down our eyeballs, Mr X is like the character asking for an unoccupied table in an empty restaurant -- spaced out.

It clumsily juggles between an SFX-packed action before promptly losing way to accommodate Emraan Hashmi's signature steaminess.
Nobody cares if the heroine catwalks in stilettoes or flashes her skinny legs in skinny jeans, even if she's supposed to be a no-nonsense cop, as long as she says her lines without lisping, directs rage without damaging the viewer's eardrums and can express even one legitimate emotion on her pretty face.

Except Amyra doesn't.
Nobody cares if the villain is just a brainless bully without any hard-hitting reason to target the hero provided he can exude menace without kicking his rival as though he were struggling to start a bike.

Except Arunoday Singh cannot.
There's also stand-up comedian Tanmay Bhat taking the joke, probably atoning for his AIB digs, as Hashmi's eerily earnest pal.

Mr X could serve as a show reel for his latent talent, especially when it comes to jumping through glass like these chaps (External link).
Emraan Hashmi is best when he's playing a character in need of rescue.

Mr X gifts him a cool title, a great power but not the responsibility that comes with it.

And to go on an avenging spree over the same, how lame is that?
At a time when even television is doling out superheroes worth binging on, taking Bhatt's boring, fluky, one-trick Mr X seriously is out of question.

He doesn't have the lines. He doesn't have the sharps. But, mostly, he doesn't have the presence.

Rediff Rating:



Image: Amyra Dastur and Emraan Hashmi in Mr X