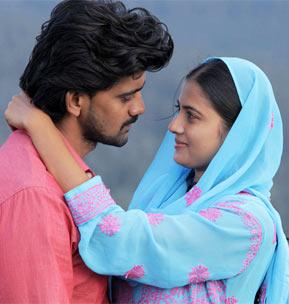 Comedy and satire are beautifully interwoven in Moodar Koodam with excellent support from the cast, opines S Saraswathi.

The enthusiastic response of audiences to films such as Soodhu Kavvum, Pizza and Neram has proved that cinema lovers today are more than willing to accept new genres of films.

After Nalan Kumarasamy (Soodhu Kavvum), it is now director Naveen, a former associate of director Pandiraj, who makes his directorial debut with a Tamil black comedy titled Moodar Koodam.

The film is jointly produced by Pandiraj's Pasanga Productions and White Shadows Productions. Newcomer Natarajan Sankaran has composed the music for the film, while Tony Chan is the cinematographer.

The film features an ensemble cast that comprises the director himself, Rajaj, Sentrayan, Kuberan, Maheshwaran, Oviya, Sindhu Reddy, Anupama Kumar, Sathish Swaminathan, Jayaprakash and others.

The tagline in the opening credits of the film reads, 'It's better to travel well than to arrive'. This beautiful quote by Gautama Buddha forms the basis of Moodar Koodam.

Naveen (Naveen), Vellaisami (Rajaj), Sentrayan (Sentrayan) and Kuberan (Kuberan) meet in jail where they have been detained for minor offences.

All of them are released at the same time and after hearing each other's unfortunate stories they decide that society definitely owes them something. They come up with a simple plan for a robbery, with the proceeds of which they plan to lead an honest life.
The house they decide to rob belongs to Vellaisami's rich uncle, Bhaktavatsalan (Jayaprakash). Bhaktavatsalan started his chit fund company with money loaned by Vellaisami's father. When Vellaisami asked his uncle for help, he was politely declined, hence the plan to rob him, which Vellaisami feels is totally justified as the money initially belonged to his father.
Just as Sentrayan is trying to pick the lock of the house they believe to be empty, the door is opened by the mistress of the house. A series of unforeseen incidents follow that the four are forced to handle.
There are no dull moments in director Naveen's Moodar Koodam. But the sheer number of characters in the film makes one's head spin.
There are flashbacks for almost all the characters, which gives an insight into their past lives and also explains their present attitude. So it is really a surprise that the film doesn't seem to go on forever.
Editing by Athiyappan Siva is slick, everyone has been given equal importance, and the scenes are to the point and quickly move from one character to another.
There are 14 music tracks in the film and the pick of the lot would definitely be Neeyum Bommai Naanum Bommai by legendary singer K J Yesudas. Incidentally, this was his first Tamil solo, originally recorded for the film Bommai (1964). It has been recorded once again by the singer for Moodar Koodam. It is beautiful number with thought-provoking lyrics and has been innovatively picturised as an autobiography of a doll.
The title Moodar Koodam (Fools Gathering) is apt for the film. Every character with his eccentric personality traits tries his best to appear formidable, but invariably ends up looking like a fool and evokes laughter from the audience.
Comedy and satire are beautifully interwoven in Moodar Koodam with excellent support from all the cast. The only negative in the film is the number of characters and incidents incorporated into the film, creating an overdose of everything.
Rediff Rating: