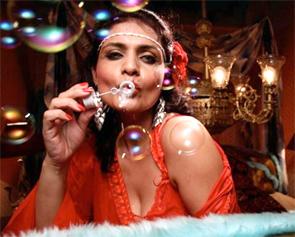 The one good thing about watching Miss Lovely is that now when I tell people I've watched it, they might mistake me for an intellectual, says Paloma Sharma.

Ashim Ahluwalia's Miss Lovely is unlike anything you have ever seen before.

Primarily characterised by feverish camera work and splashes of psychedelic imagery, Miss Lovely follows the life of Sonu Duggal (Nawazuddin Siddiqui), who works under his shifty older brother, Vicky (Anil George), a B/C-grade filmmaker.

Sonu spends his days moving reels from place to place, scouting for new girls to work in Vicky's films and longing to go legit in the film business.

He promises Pinky (Niharika Singh), his young and seemingly naive muse, to make her a star by casting her as a lead in his romantic production, Miss Lovely.

But in the underbelly of the city, no one is who they seem to be.

A much-touted film festival favourite, Miss Lovely is a frustrating film. Neither does it go forward, nor does it go back -- it only keeps a steady pace where it is like a creaky old rocking chair.

The script is not exactly Miss Lovely's strong point.

This is not a film rooted in its characters because the director does not attach a solid past to them. So much is
left open to interpretation that it becomes the viewer's job to figure out what really happened in the film.
But the film has achingly pleasurable performances from the cast and the brilliant sound design.
Ahluwalia also puts in an insane amount of effort to ensure that everything looks like Bombay in the 1980s.
Miss Lovely
boasts of a sinfully dark feel to every frame. It's like sitting in a smoky room, watching smiling people move around as their reflections cry out for freedom from within the golden gilded mirrors. You can almost smell the liquor, salted peanuts and cheap perform as you sit in dark cinema hall, watching the characters struggle to rise above their underground confinement and reach for that one, dwindling ray of light.
But the excessive indulgence in arty footage, symbolic shots of nature and the film's refusal to make up its mind about what it wants to say make it a tiring watch.
While gaudily commercial films like
R... Rajkumar
lies on one end of the spectrum,
Miss Lovely
lies far on the other extreme and too much of anything is never a good thing.
The one good thing about watching
Miss Lovely
is that now when I tell people that I've watched it, they might mistake me for an intellectual.
Stereotypes, I tell you.
Rediff Rating: