...But a comedy about Class Wars. Sreehari Nair tells us why.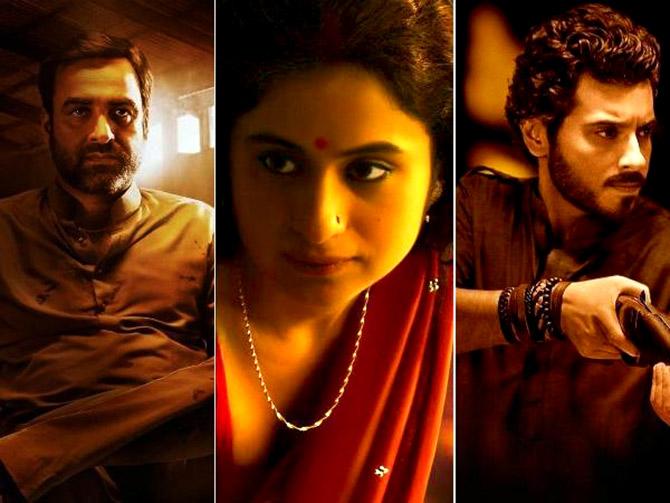 There is a lot of gun toting, backstabbing, and killing in Mirzapur.
But the real wars in Amazon Prime Video's new Web series are bloodless and don't involve gangs; they are Class Wars. These are staged not in violent lanes or death-pits but in living rooms, where, surrounded by antler heads, rhino mounts, and other masterpieces of taxidermy, the old Indian Ruling Class tries to make sense of the new Indian Middle Class and its freshly acquired panache and fighting spirit.
Prominent among the Ruling Class sceptics is Kaleen Bhaiya, who has on his vehicles' number plates those magical words 'The King of Mirzapur', but whose crowned head, these days, lies uneasy.
The busts and full-sized portraits that Bhaiya once proudly occupied have lost their lustre -- they are now symbols of discredited nobility and Boy Emperors more deserving of his throne have started to bloom in households elsewhere.
Kaleen Bhaiya may be self-styled but he is mostly free of vanity (which is precisely why he had to be played by someone as meditatively great as Pankaj Tripathi), and he understands that if he can't bring down these middle-class households, he has to knock at their doors, enter them, and corrupt them from inside.
This commentary in Mirzapur -- about the changing class dynamics in small-town India -- is what gives the Web series that something extra and pushes it beyond such generic descriptions as 'a saga of violence'.
When Fellini was filming 8 1/2, he had taped a note above his viewfinder that said, 'Remember, it's a comedy,' and a note of this kind was perhaps inscribed by the writers of Mirzapur on top of its script's every page.
Its violence notwithstanding, Mirzapur is essentially a comedy about paranoia; which is to say, a comedy about the fear of losing that which one knows one doesn't quite deserve to own, but owns nevertheless.
It is high comedy when Kaleen Bhaiya chides his son Munna Tripathi (Dibyendu Sharma) for talking roughly with a police inspector.
"Treat Gupta with respect," says Kaleen Bhaiya fuming through his eyebrows, "Gupta is a postman bringing you the news."
Inspector Gupta is left with no choice but to wince at the honorary position he has just been accorded with.
In this lawless land, hooliganism is an absolute virtue and the good possess it as much as the bad.
With no time for grandiose lectures and no patience for those who may wish to bend him, an upright lawyer, Ramakant Pandit (Rajesh Tailang), keeps a revolver with him at all times.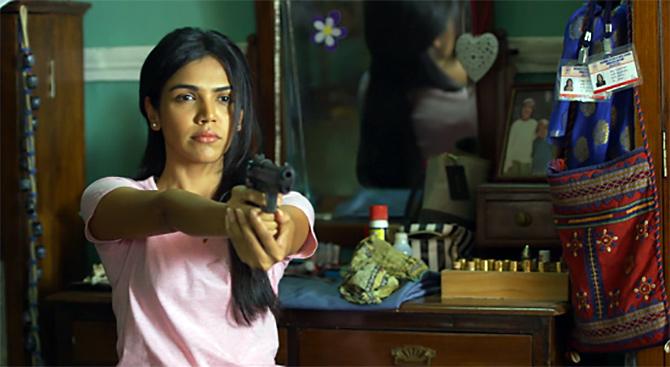 The women in Mirzapur know the petty tricks of their men, and the posturing that colours their big lines.
They may conquer lands and rewrite folklores, but when these men return to their mansions, to their women, they behave like defeated generals, weak before temptation.
The women are bored by all this, and they let it show.
Shweta Tripathi plays Golu Gupta, a college-going girl, who believes that ideal men can be found only in books, where they come at you with a leather belt and later soothe your wounds.
When these misleadingly demure women drop their ghoongats and settle down to indulge in acts of adultery, the force of their womanly exertions cause the men to quake in their photo frames.
Watch out for that sequence where Kaleen Bhaiya makes a basso-profundo speech about No Badtameezi With Women, and his wife (Rasika Dugal) responds with a grunting noise: The point of the grunt being that Bhaiya is so cold in bed that a little Badtameezi would have come as relief.
Director Karan Anshuman and his team of writers want us to befriend the most interesting of the oddballs, avoid the dullards completely, and dip into a world where people are constantly surprising each other and themselves.
In a terrific scene set around a dinner table, a mousy housewife (Sheeba Chaddha), adept at handling cutlery, suddenly points her husband's revolver at the goon-bunch led by Munna Tripathi who barge into her home one night -- her swift action setting off a mini gang war in her hall room.
Mirzapur is a product of the post-Sopranos era of home-entertainment which got us into the habit of welcoming despicable characters into our cozy abodes and then drawing, in our heads, the contrasts between these characters' blood-charged, testosterone-filled lives and our own dry existences. (The Sopranos's masterful 'half-ending' was in all likelihood a protest against this post-millennial obsession).
It may have borrowed The Sopranos's marrow, but, unlike its spiritual predecessor, Mirzapur isn't cinematic, not exactly. Which means there's nothing quite like the splendor of a densely-framed shot to experience here.
In the best gangster cinema -- say, the two Godfather films, Mean Streets or Goodfellas -- the big fiestas are so affecting because they seem to emerge naturally from a crowd of small details: A sausage here, a cannoli there, a crumpled 10 dollar note, the faint echoes of a carnival, tiny feet at a wedding -- there's so much life in the fringes of every frame that when blood's spilled, or when the thumb of power is activated, you feel the jolt more acutely.
Such a crowding of details is absent in Mirzapur.
For an Indian television-watching audience used to shows with only high points, Mirzapur may seem delightful in its effrontery -- it too is all highs, with the little things made 'explicit'. (The taxidermy, the number plates, the busts, the portraits -- they are all laid out for you to catch and applaud!)
This is perhaps why the show feels more broad-stroked and less fine-brushed as its scope expands, and why its Chamber Drama bits feel more alive than its Outdoor Scenes.
When a Wasseypur character dances to the music from a brass wedding band, he dances as though there's no one there; in fact, even the dancer isn't there -- only his body is. But when a Mirzapur character attempts to do the same, he seems tremendously aware of his surroundings.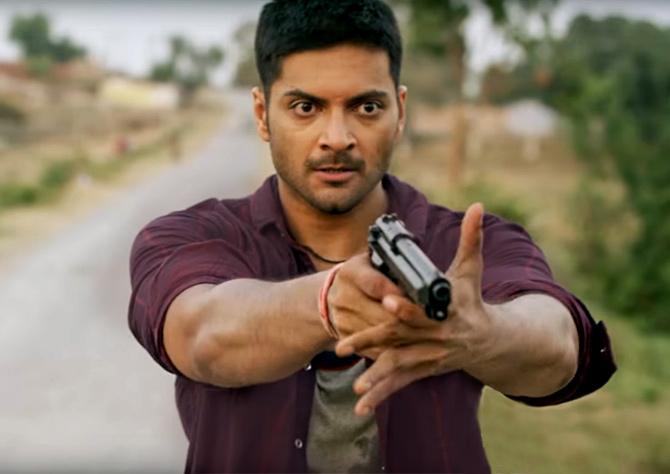 What we get with Mirzapur is a persistent heat, even if we don't always feel the vapours. And this isn't a bad thing necessarily: For its slight unrealness appeals to our movie-fed mind and makes it more impersonally enjoyable.
Two performances mirror the show's easy appeal.
As an actor, Ali Fazal's shtick is his carefully developed 'slow timing', which he uses to depict his characters's internal calculations. In the past, when he needed to convey a certain intelligence and charm, this 'non-acting' had worked against the spirit of the roles he had taken on.
Here, however, Fazal's shtick anchors his character.
There was something private in his eyes that didn't fit the earlier tidy avatars. But the role of Guddu Pandit -- a man thirsty for mother's milk, but, who, once he starts punching can go into a killing-fit -- seems to have released something in the actor.
When Fazal prolongs sequences, it gives Guddu comic force -- we seem to be watching him mull over his next move -- and so, at some later point, the speed of his brutality catches us completely wrong-footed.
Dibyendu Sharma's Munna Tripathi is, despite the explosiveness of the character, a beautifully controlled performance.
Munna is a philosopher afflicted with blood lust, which effectively makes him a politician. But he is also a prince who suspects he won't be served his just royal desserts.
Sharma aggregates the complexes of his character and shapes Munna into a man who lives to please himself -- whether in the act of confrontation or in the act of sex.
Dibyendu has accepted a talky part and then smartly garbled his lines (as an actor, this takes immense self-confidence): his responses are often half-responses, emerging from a twisted mouth or interspersed with sighing sounds.
Sharma's and Fazal's are performances that aim to kill. But it's the quieter turns that suggest charged subtexts.
Rajesh Tailang's Ramakant Pandit calmly riding his scooter into his house is a simple domestic act that suggests the culture and history of an entire town.
When a wheelchair-bound Kulbhushan Kharbanda receives Rasika Dugal's foot massages, the sequence has shocking Freudian undertones.
But so good is Kharbanda there (not to mention Dugal's easy grace) that the undertones stay down under, and only the hint reaches us: Tradition is maybe the last outpost of this old man's desires.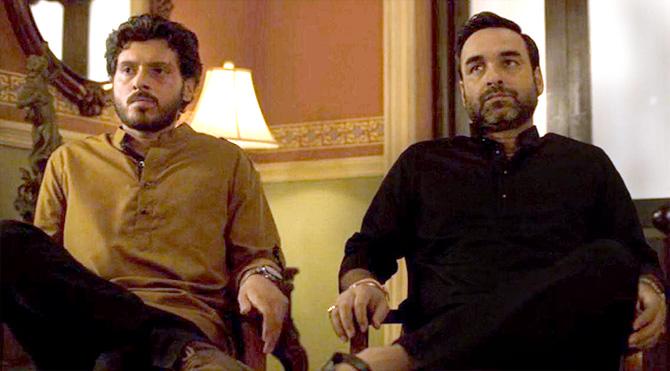 The role of Kaleen Bhaiya allows Pankaj Tripathi to let loose more of the silent wisdom that has underlined his finest hours.
After a sensational 2017, this has been a rather disappointing year for Tripathi.
Not only was he made to shed all his pride in his craft and prostrate before Rajinikanth in a nothing role in Kaala (how can you commend the artistic integrity of any movie that uses Pankaj Tripathi so disparagingly?), he was also reduced to a mere punchline-bellower in Stree (those who think Rudra was a great Pankaj Tripathi performance obviously have low expectations of him).
With Mirzapur though, he turns the clock back.
When at his best, Tripathi's face becomes a facsimile of his character's excesses, bad habits, small kindnesses, and the beatings he has taken and given.
There's a smoldering air of menace about Kaleen Bhaiya's face but Tripathi internalises his power and hides him deeper within himself -- unshackling the character, every now and then, through a little something that's too good for words.
Often, a movement of the finger or a raised eyebrow is followed by a piece of dialogue which magically qualifies the expression of five seconds ago.
This is an actor for whom the lines that other people write, come out like compromises for ten better thoughts he had but didn't say. (And yet, there are those who will applaud him for speaking his punchlines!).
The humanity of Kaleen Bhaiya is in the interludes that Pankaj Tripathi thinks up for him: Such as asking a servant boy to pass the fingerbowl in the middle of his reproaching his son; or his sudden appraising of Vikrant Massey's character in the middle of a sentence ('You are smart, ain't you? Killed anybody yet? Why don't you start today?').
Though their lore and intelligence are similar, Pankaj Tripathi has shaded Kaleen Bhaiya differently from his Kehri Singh in Gurgaon.
Cut from the same fabric, the difference is in their perceptions of sin, and Tripathi underscores this difference physically: Kaleen Bhaiya's shoulders haven't hunched thus far, the face hasn't submitted its resignation, and in the way he moves, he lets us know that the time to compose those last hymns hasn't come yet.
An argument can be made that Mirzapur doesn't have a moral centre because there aren't many redeemable characters here. But I see that not as artistic corruption, but artistic courage.
Karan Anshuman and his team of writers have very deliberately stayed away from viewing their characters's actions through a moral prism: They show the audacity to do what some of those endlessly moralising Anjum Rajabali-Prakash Jha movies had the good taste not to do.
And yet, Mirzapur doesn't make lawlessness attractive; its satirical tone is daring, but never in-your-face (though the detailing is) -- the behaviour on the screen may be strangely immoral but through the show there runs this juice of everyday craziness, lending it balance.
A scene of Rasika Dugal asking Kaleen Bhaiya to consume Viagra cuts to a scene of Guddu Pandit on his computer searching for steroids.
A politician who gorges on mangoes stops to unfurl his new campaign poster and on it is his party's symbol: A Mango!
Sex is boring unless it is trinketed with sadomasochistic thoughts, dummy orgasms, or the fear of sex.
What we by and by realise is that the throne-hungry people in Mirzapur are all caught up in a crosscurrent of small vulnerabilities and old prides -- and this can drown these people, before the bullets get them.
Like the much under-rated Saheb Biwi Aur Gangster series (the second movie, especially, has real depth of perception), Mirzapur is an attempt to cast one last, long look at those portraits and busts that now sit as cobwebbed remembrances of things past.
The word 'humorous' is derived from the Latin word 'humere' which means 'moistness.
Mirzapur looks at its once-elegant-now-faded world but with eyes that are not quite wet and not quite dry: which is to say with moist eyes, or humorous eyes.
A unique sensibility, this: It had once helped Fellini approach nostalgia without sentimentality and in this show, it stops you from feeling 'lifted' by all the action and the bloodletting.
Sometimes, chortling over madness is the only way to preserve one's sanity.
It's in the midst of great confusion and doom that the message rings loudest: This is a comedy!
Rediff Rating: