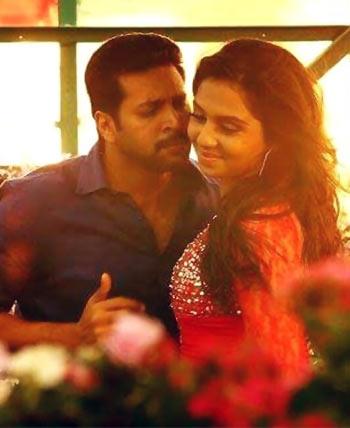 Miruthan fails to live up to all the hype it created, feels S Saraswathi.
In the last few years, Tamil filmmakers have boldly explored new genres catering to a generation that is open to fresh ideas.
Director Shakti Soundar Rajan's latest venture Miruthan promised the Tamil audience its first zombie film experience.
The film has been in the news ever since its exciting trailer released over a month ago. Sadly, the film fails to live up to all the hype it created.
Starring Jayam Ravi and Lakshmi Menon, the film is produced by Global Infotainment. D Imman has composed the music.
The film is set in Ooty, where radioactive waste is accidentally spilled causing an entire city to be infected by a virus that is slowly turning humans into cannibals.
The spill is lapped by an unsuspecting dog, which turns rabid and begins to attack humans, triggering an epidemic. Affected by this virus, the victims acquire a crazy thirst for human blood and go on a rampage attacking other humans.
The government declares an emergency and no one is allowed in or out of the city. Renuka (Lakshmi Menon), a doctor, along with some of her colleagues is out collecting blood samples of victims for research in the hope of developing an antidote.
They have to reach the labs at Coimbatore, but are surrounded by savages affected by this deadly virus. They seek help of Karthick (Jayam Ravi), a traffic cop, who is looking for his young sister Vidya (Anikha) in the ensuing chaos.
Can Karthick find his sister before it is too late? Will Renuka and her team reach Coimbatore safely?
All this in an extremely gory second half that has nothing, but Jayam Ravi, shooting his way through an uncontrollable mob of blood-thirsty cannibals.
The never-ending assault continues as they keep on coming, one after the other, with their glazed eyes, bloodied bodies and zombie-like expression. Though quite exciting initially, the novelty soon wears off, and the film is reduced to a lame science fiction with an overdose of action.
The easy banter between Jayam Ravi and Kaali Venkat (who plays his friend) even in the heat of the battle, provides some relief.
The film has an interesting romantic angle. While Ravi is deeply in love with Lakshmi, she is unaware of his affection and is engaged to be married to another doctor.
The background score is too loud and overwhelming, but the songs, Munnal Kadhali and haunting Mirutha Mirutha number are refreshing.
As far as performances are concerned, Jayam Ravi, who is basking in the success of Thani Oruvan and Bhooloham, lives up to expectations and so does Lakshmi Menon.
But the half-baked script, ordinary VFX and inept execution make director Shakti Soundar's Miruthan a tedious watch.
Rediff Rating: