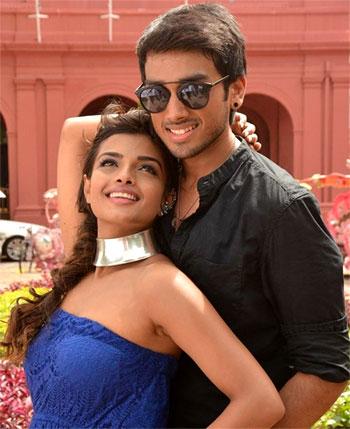 Meen Kuzhambum Mann Paanaiyum is not worth your time, S Saraswathi advises.
Son of veteran actors Jayaram and Parvathy, Kalidas was 10 years old when he won the National Award for his performance in the 2003-released Malayalam film Ente Veedu Appuvinteyum.
Thirteen years later, the actor makes his debut in a lead role in the Tamil film Meen Kuzhambum Mann Paanaiyum (Fish Curry and Clay Pot).
The film is an incredibly boring and tedious fantasy comedy with a half-baked script and annoying characters.
First-time director Amudeshwar attempts to show what it feels like to walk in someone else's shoes.
The film opens with a car race between two college students and goes downhill from there. Annamalai (Prabhu) is a rich widower, whose entire world revolves around his only son Karthik (Kalidas Jayaram). He owns a restaurant in Malaysia that specializes in fish gravy traditionally cooked in a clay pot.
Mild-mannered and affable, Annamalai does his best for his motherless son but is considered old fashioned and melodramatic by Karthik, who is a complete contrast. He is aggressive and rude and totally ignores his father's affections.
The entire first half of the film explores this failing relationship, which seems too exaggerated.
Kamal Haasan's brief cameo in the film has been much publicized and he puts in an appearance at the interval to create a twist to the story. But even this adds little to the narrative that seems to drag on forever despite the runtime of just 136 minutes.
None of the songs stand out and the background score by D Imman is ordinary.
The experienced Prabhu does well as the loving and caring father but the comic routine in the second half seems forced.
Kalidas plays his age but appears awkward giving a lackluster and unconvincing performance.
Actresses Ashna Zaveri and Pooja Kumar add little to the film. Ashna appears petulant throughout and ends up throwing a tantrum in every scene. Pooja Kumar, as Mala Akka a Malaysian don, is ridiculous.
The plot is interesting but the screenplay is highly exaggerated perhaps to show the contrast in the second half when the situation is reversed. The fantasy element in the film designed to evoke laughter only ends up testing your patience. Neither the characters, nor their antics evoke any laughter.
Meen Kuzhambum Mann Paanaiyum is a slow-paced, tedious fantasy comedy that is not worth your time.
Rediff Rating: