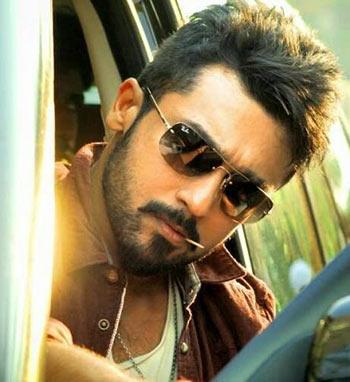 Massu Engira Masilamani is yet another trademark Venkat Prabhu entertainer.
After the debacle of his previous film Anjaan, Suriya turned to Venkat Prabhu, one of the most successful commercial film directors, for his next venture.
Titled Massu Engira Masilamani, the film is a fantasy supernatural thriller with all the twists and turns, suspense, action and fun that we have come to expect from a Venkat Prabhu film.
There is non-stop excitement, with all the characters in the film being on some kind of high, literally bursting with energy.
Suriya essays two characters in the film, Masilamani or Massu, an ingenious conman, and a ghost called Shakti.
Massu and his friend Jetli (Premgi) make a living by planning elaborate schemes, cheating bad guys and escaping with their money. A bad road accident, in which Suriya barely manages to survive, grants him a special power.
All of a sudden, he is able to see and communicate with dead people around him. They approach him with requests to fulfil their dying wishes.
Initially, Massu misuses his power by making them terrorise innocent people and demanding money from them by pretending to drive them away.
There is a quite a bit of fun, with ghosts popping out from everywhere chasing after Massu. Karunas, Sriman and several others play the ghosts in the film.
The film only moves to the real story almost at the end of the first half. Making a dramatic entry is a very dead Shakti, seeking vengeance for the death of his loved ones.
But Massu is in no mood to cater to anybody's demands. He is content wooing his lady love Manini (Nayanthara), a nurse.
There is absolutely nothing in the film for Nayanthara. Even the romance seems rather forced.
Pranitha Subhash makes a brief appearance in a flashback. Others like the corrupt assistant commissioner Vikram (Parthiban) and industrialist RK (director Samuthirakani) add some drama in the second half.
Premgi, however, has sadly stopped being funny; his earlier spontaneity seems to be missing.
The film is undoubtedly Suriya's show all the way. He plays the two characters very differently in terms of looks, body language and dialogue delivery. As Shakti he is more stylish, composed but menacing, whereas as Massu he is the happy-go-lucky guy with not a care in the world.
There is plenty happening in the film, both in the first and second half. Venkat Prabhu keeps the momentum going right from the opening scene. There is, however, a lot of chaos, until he decides to reveal it all at the very end.
Yuvan Shankar Raja's music keeps up with the tempo of the film.
You have got to hand it to Venkat Prabhu for attempting a completely different storyline each time he makes a film.
Massu Engira Masilamani is yet another trademark Venkat Prabhu entertainer.
Rediff Rating: