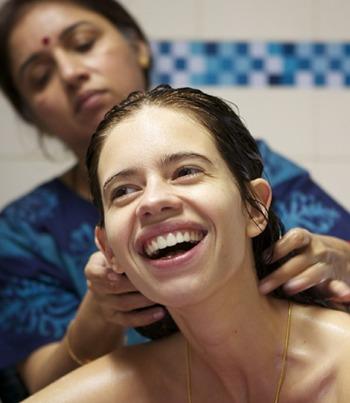 Margarita, With a Straw's is admirable in its handling of its protagonist and cerebral palsy, says Paloma Sharma.
There is nothing great about Margarita, With a Straw.
It is an ordinary story about ordinary people who, surprisingly, face ordinary circumstances.

It is this ordinariness that makes the film extraordinary.
Margarita, With a Straw looks into the life of Laila Kapoor (Kalki Koechlin), a young woman with big dreams and bigger obstacles -- she suffers from cerebral palsy -- who doesn't let her condition define her.
Confined to her wheelchair and largely dependent on her mother, Laila receives a letter of acceptance from New York University, which gives her a chance to venture out in the world on her own and to explore the new world that is slowly opening up inside of her.
It is in New York that she meets and rescues a Bangladeshi-Pakistani activist, Khanum (Sayani Gupta), and falls in love with her.
Laila's journey of self-discovery and her acceptance of her sexuality causes rift between her and her family.
Despite this, Laila does not shy away from seeking what is possibly the hardest thing for a person in her position -- true independence.
Margarita, With a Straw is wonderfully liberating in its portrayal of cerebral palsy, choosing to speak of challenges with optimism rather than going down the beaten path of doom and despair.
The film also handles intimacy without any romantic illusions, in the sense that it demonstrates how 'normal' desire is, even for the disabled.
Simplistic in its cinematography, Margarita, With a Straw features charming frames lit up with an almost dream-like, soft light.

Anne Misawa captures the summery outdoors like no other.
An iron-clad script provides much delight while Kalki Koechlin and Sayani Gupta's performances are bound to win over even the most cynical members of the audience.
However, it would be unfair to bestow disproportionate, though well-deserved, praise upon only the two actresses when the entire cast delivers brilliant performances -- from Laila's first crush, Nima (Tenzin Dalha), to her younger brother, Monu (Malhar Khushu).
Shonali Bose returns as writer-director after the Konkana Sen starrer 2005 film Amu (although she did work on her ex-husband Bedabrata Pain's 2012 film Chittagong's screenplay).
Bose seeks no sympathy for her disabled protagonist and resists making a martyr out of her.
Margarita, With a Straw is a refreshingly, brutally honest film which ends up making the tiny mistake of adding an emotional, clichéd ending.
Although certain scenes in the film could have been infinitely more powerful had the background score been stronger, one must laud Bose's use of deafening silence and Laila's wails in a scene at the hospital towards the end of the film.
Rediff Rating:



Image: Kalki Koechlin and Revathy in Margarita, With a Straw